I need a Disaster Recovery Plan.  We hear this all time and rarely anyone thinks about one until it is way too late.  If your business is out for a day, week or month, how much money would it lose?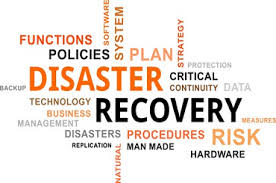 A  business disaster recovery plan recognizes a company's opportunity to various dangers and sets up the methods to avoid and recover from them.   A good disaster recovery plan also outlines what steps are needed to get the business back up as fast as possible.  Disasters could be a flood, energy outage, IT outages or being hacked into your internal systems.
No matter what the size of the business, you should have a Disaster Recovery Plan, especially for your IT and Telephony Needs.  Here are a couple of steps to start your own disaster recovery plan.  It could take only 15 minutes a week of your executive meeting but could save you a ton of work and thousands of dollars of lost revenue.
1.  Put together your risks – Could your company be flooded?  Do you have frequent power outages?  Is your IT equipment or phone system old?  Is my business space secure?  Are my IT assets secure from cyber attack?  Brainstorm with your management team and get every possible scenario on a piece of paper.  Rank them accordingly.
2.  Layout a disaster recovery plan for your top 5 – Start with your top 5 disaster possibilities and begin to discuss how you would work through them.  Assign a leader and layout a simple plan to start with how you could work through this disaster.  Review the steps and get everything in writing.
3.  Test the plan – While this is not the fun part, it is critical to see if you got your pre-plan right.  You can take the test as far as you want but you will need to test it in order to truly ensure it works.
4.  Post the plan – In the event of a disaster happens, where is your disaster recovery plan located?  Should it be in the cloud, so everyone can get access to it?  I believe this is one of the areas most overlooked by companies.  Make sure everyone knows, who needs to, where the disaster recovery plan is located.
5.  Review the plan – Once your company has in place a plan, make sure to review it every year at a minimum.  It is especially important if you purchase a company or move to a new location.
6.  Move on to the next 5 possibilities –   Well you have to wash and repeat now to ensure you have worked through you most pressing disaster possibilities.
The goal of a disaster recovery plan is so that your business can get back on its feet in the event of an unplanned turn of events.  No one loves to do it but when a disaster happens, a good plan (be big or small) is worth its weight in gold!
WheelHouse Solutions understands that not all data is created equal, and while some businesses may just need files securely backed up, at a low cost, others need to know they can restore their server in minutes, not hours or days.
Your business and the data within it is not the same as everyone else's, so why should your data recovery solution be forced into a one size fits all? WheelHouse Solutions' Backup-as-a-Service (BaaS) offerings provide our client's the best fit for their recovery needs and their budget.  Visit us here or call us today at 314-492-2506 for your free consultation.