Many small companies use a 10/100 ethernet installation, which is fine if you intend to stay small. A company with an eye towards growth, however, will soon find itself hampered by this slower speed and will be looking to upgrade to a gigabit Ethernet installation.
What's a 10/100?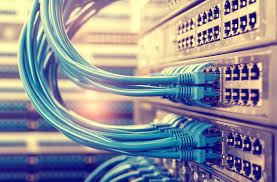 The old 10/100 ethernet began life as simply 10. It could move 10 megabits per second. Development allowed 100 megabits to be moved, but rather than bury the 10s, they made the cards backward compatible, calling them 10/100s. They could move 10 or 100 megabits. At the time, this was an astounding rate of data transfer. Today, however, it's like having a car with two speeds, "slow" and "not-as-slow".
For very small businesses, such as single sole-proprietorships, this may be all that is needed. However, as a business grows, more data needs to be moved. Income, outgo, the faster you can move your data to where it needs to be, the more quickly you can see where your business stands. The sooner you can backup your data to a secure location, the safer your valuable business data is.
What's a gigabit?
As the business world evolved, 10/100 was no longer fast enough. Growing businesses needed faster data transfer. Gigabit data transfer moved 1,000 megabits per second and was fully backward-compatible to the 10/100s. However, the early gigabit Ethernet required a fiber-optic cable or a special shielded copper cable. Today's gigabit Ethernet uses a standard CAT-5 cable, making it far more practical for standard LAN applications than its predecessor.
Should I upgrade?
If you think of data transfer like a flow of water, you can envision Ethernet as the pipes it flows through. The larger the number, the wider the pipe. The wider the pipe, the more water that can flow through. If you plan to move a lot of water, you need a larger pipe.
What would a small business do that would require that much fast data transfer? Plenty. Consider these instances:
Gigabit deployment can prove very useful to "bandwidth intensive" applications and to desktop "power users" who need fast access to large amounts of data.
Streaming audio and video for meetings can be frustrating if things look choppy and don't sync up.
Moving large files across the network happens a lot faster. A file that should take less than 10 seconds to move can take much longer in reality due to numerous factors: the OS being used, which applications are running, and the age of your processor (which generally indicates motherboard bus rates).
The faster you get your data backed up, the more aware you are of which data has been backed up if changes get made around the scheduled backup time.
Do I really need it?
As we said, if you are small and intend to stay small, you probably won't see any benefit from upgrading to a gigabit Ethernet installation. But if you think you'll see growth in a year or two, an upgrade can only help. Unless you're using very old computers, your current machines should work fine. A professional installation team can get you up and running quickly with all of the right cabling and equipment. After that, all you need to do is grow.
WheelHouse Solutions works hard to provide exceptional service to businesses, ranging from 5-10 person shops to Fortune 100 Companies. We value our position as a vested partner, with each one of our customers.  WheelHouse will work together with you, as a partner, to get your IT assets performing optimally and help you focus on strategic priorities in your business, that can help spur growth and increase revenues.
Click here or call us at 314-492-2506 for a free consultation.  We strive to gain an understanding of the individual needs of every business, with whom we work and don't just provide the equipment, but also the expertise to implement it flawlessly.