The 4th of July is here, and it's time to celebrate! Bring out that grill and get ready for a crazy independence day cookout! Go purchase big, loud, and colorful fireworks, and color the night sky with a dazzling spectacle of lights! But with all the fun and festivities, be sure to take some time to remember why we celebrate this momentous day.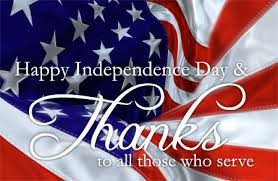 This Independence Day, there's no better time to express our sincerest appreciation for your business. We value the trust you have placed in WheelHouse Solutions to help you with your organization's technology goals.  We will be closed Wednesday, July 4th to enjoy the holiday with our families.
As you celebrate today, here are some fun facts to share around the picnic table:
Thomas Jefferson changed the wording of the Declaration of Independence from "the pursuit of property" to "the pursuit of happiness."
John Adams and Thomas Jefferson both died on July 4, 1826.
Only two people actually signed the Declaration of Independence on July 4: John Hancock and Charles Thomson, secretary of Congress. Most of the others signed on August 2.
Not everyone was on board with celebrating on July 4, the day Congress approved the Declaration. John Adams wanted to celebrate on July 2, the day Congress voted for independence.
One US president, Calvin Coolidge, was born on July 4. So were Nathaniel Hawthorne, Neil Simon, George Steinbrenner, and Malia Obama.
On July 4, 1778, George Washington ordered a double ration of rum for his soldiers to celebrate the holiday.
July 4 wasn't deemed a federal holiday until 1870, nearly 100 years after the nation was founded.
Fireworks have been a major part of Fourth of July since the earliest celebrations. In 1884, miners blew up the post office in Swan, Colorado, because it wasn't supplied with fireworks.
Americans consume around 155 million hot dogs on the Fourth of July each year. They also spend $92 million on chips, $167.5 million on watermelon, and $341.4 million on beer.
The stars on the original American flag were in a circle so all the Colonies would appear equal.
WheelHouse Solutions can help with all things VoIP & Telecom, Cloud, Managed IT Services, IT Consulting Services, and much more. Contact us today for your technology and software needs!  You can reach us at WheelHouse Solutions or call us at 314-492.2506.