When it comes to phone systems in a call center there are very specific objectives they should help your company achieve. These include reducing costs, increasing revenue opportunities, maximizing the productivity of your call representatives and improving overall customer satisfaction. But not all phone systems are alike and that's why it's important to for your company to identify its specific usage needs as you choose the right phone system. Once you've identified your usage needs, you're ready to discuss which systems will best meet your needs and budget. Here are some things to consider when it comes to buying a new phone system for your call center.
One of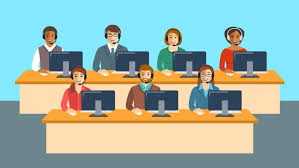 the most important things to consider when it comes to a new phone system for your call center is how it handles inbound and outbound calls. Many call centers take advantage of call blending where agents can receive inbound calls as well as make outbound calls. When agents can handle both inbound and outbound calls they are more productive than agents who can only respond to calls or only call out. While most businesses handle a combination of the two, you should consider if call blending makes sense for your company and its business model.
You should also assess a typical week in your call center so you have a better idea of specific features phone systems provide that will benefit your business. Features like call routing that direct calls to your least busy agent, first available agent or the agent who can best answer a specific customer's inquiry, will make your call center more productive and successful. There are also other features that can increase your call center's productivity such as predictive dialing, automated messaging scheduled calls, and others. WheelHouse Solutions has experience working with a wide variety of businesses with call centers and can make recommendations on the features that will help your company's call center to become more productive than it is now.
Not everyone is born with the gift of foresight so it helps to research and gather as much data as possible to help you predict how many agents will use your new phone today and in the future as well as where they'll be located. The phone system you choose will need to scale the number of users and geographically accommodate business growth without incurring unplanned costs. Look for vendors with data centers located near all your business locations gives you a better shot at receiving superior service.
Another consideration when it comes to a new phone system is whether or not you prefer location-based or central control for your call center. Look for control features like access to reporting, the level of reporting detail as well as various levels of permissions, compatibility with CRM tools, audio recordings and more.
It's best to avoid long-term contracts if possible. Phone systems change rapidly with new innovations to meet changing business demands and stay competitive. When you avoid a long-term contract you have the flexibility to make changes to your phone system when necessary. Making changes to your phone system is inevitable so when you buy a new one you'll want a system that is compatible with other technologies used by your company and its agents. Look for compatibility with CRM tool, mobile phones, email clients, calendars, etc.
Finally, you want to choose a phone system that works for your customers and gives a good experience interacting with your company. Look for phone systems that provide quick connections, high-quality sound, consistency when it comes to the customer's experience, short hold times that provide music and messaging. Some phone systems also provide personalization that provides your rep with the customer's first name and location. This helps your company create a more user-friendly experience for its customers while building customer loyalty.
Visit WheelHouse Solutions here or call us at 8314-492-2506 to speak with one of our knowledgeable staff so we can work with you on finding the right service for your business at the most affordable rates.  At WheelHouse Solutions, we love to serve our customers. Our primary commitment is to deliver the technology solutions your company needs for success and to help you integrate that technology into your daily operations. We are committed to the long-term success of each and every client. You can count on us to be here for you now and in the future.