Although a sizeable number of users have installed the new operating system Windows 10, not all of them know its full capabilities. Multitasking is one feature: this latest Windows version allows users to easily switch back and forth between projects. Task View is a virtual desktop feature that creates a separate desktop for each of your active projects. The benefit is when you need to access applications specific to one project, you don't have to sift through applications necessary for another project, which saves time.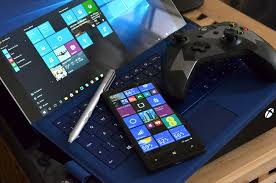 This new organizational feature allows users to switch from one project to another with a relatively clean virtual workspace and eliminates the need to continually minimize and maximize screens, potentially causing much confusion. When changing projects, you simply change virtual desktops. This leaves no distracting and unnecessary clutter and keeps only the documents and applications you need right at your fingertips.
In order to access Windows 10's Task View feature, you click the icon at the bottom of your Windows screen that looks like a square layered over a couple of other squares. If there's any confusion about which icon this is, just hover your cursor over the various icons until you discover the one with the Task View text attached. This automatically reveals everything you are currently working on in one place. For instance, if you have a Word document and your Internet browser open, you will see the Word document and your browser side-by-side in a tiled manner. With more open documents and applications, there are simply more tiles.
To create a new virtual desktop using the Task View, click on the Task View icon first. Near the bottom right corner, you will see a large plus sign with the text New Desktop below it. Once you click that, you have two active desktops. Icons for both active desktops will be displayed along the bottom of your screen, and all you have to do to switch between them is to click the desktop you currently want to use. You can also move elements between desktops using the command or drag-and-drop features to further customize your virtual workspace.