In this post, we continue our foundation series for successful implementation of Business VoIP.  We will review traditional DSL service in relation to internet speed and reliability with a focus on implementing an IP Phone system.
DSL –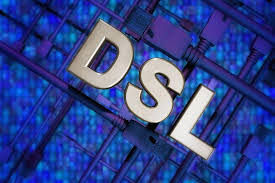 DSL (digital subscriber line) is a service provided to businesses from the traditional phone company. This is a bi-directional service (different speeds for upload and download) works over a traditional phone line.
Reliability – With the DSL products you get two different speeds (upload and download) for your internet service. You also get a "best effort" contract which means they will do everything possible to provide you the best internet service possible. (Basically no refund for downtime)
Positives – The DSL products offer businesses low-cost internet. This product is stable and it is helping hundreds of thousands of businesses with their internet needs. With so many customers, DSL is an incredible choice for business VoIP implementations.
Negatives – DSL is a distance-sensitive product, (the distance is from the closest serving central office) so the service might not be available. (Even if you get local business lines from the phone company.) Another limiting factor of the DSL product set is a speed limit which is distance driven as well.
Summary – Depending on your needs, DSL internet speeds and reliability can work for smaller VoIP Phone system implementations. (Up to 10 handsets) Within several implementations, we have installed two DSL lines to help offload the internet needs of the business. (We will cover this in another post). Has your DSL service worked for your business? We would love to hear your comments.
At WheelHouse Solutions, having a consistently reliable means of business communication with your customers is always assured utilizing our best-in-class VoIP phone systems and VoIP Services.
WheelHouse Solutions will work with you to design a comprehensive VoIP solution that will deliver superior VoIP service, unparalleled service reliability, and peace of mind, for years after the sale.  Click here or call us at 314-492-2506 for a free audit and review of your telecommunications services and to learn how our expertise in the telecom industry can benefit your organization.