In this post, we continue our foundation series for successful implementation of Business VoIP. We will review Ethernet (Metro Ethernet, Ethernet over Copper) internet services provided by competitive phone companies. We will also review internet speed and reliability with a focus on implementing an IP Phone system.
Ethernet –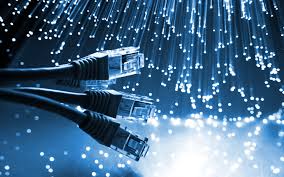 (Metro E) is a high-speed internet service which is delivered into a business as an MPLS Ethernet connection over copper services. This dedicated internet service is a two-way bi-directional (upload and download) equal Internet services.
Speeds – Ethernet (Metro E) internet speeds start at 10 Meg through 100 Meg. Some carriers are touting they can provide speeds up to 1 Gig. (Differs by Carrier)
Reliability – Ethernet (Metro E) internet service seems to be very reliable. With this type of internet service, your business is provided a contract which guarantees you a refund if the service is down for a period of time. (99.999%)
Positives – Reliability and speed. With this transport, it allows the pricing for dedicated internet (same up and down speeds) to decrease on a per Meg basis.
Negatives – Price and Availability. Just like any dedicated internet product, this is a higher priced product for business customers. Also, since this product is only offered in certain areas, it is not available in all areas yet.
Summary – Ethernet (Metro E) internet service is a great alternative for businesses who rely on the internet to run their businesses. The only drawback of the service vs. T-1 service is the availability which is not widespread yet. If you are looking to implement a larger VOIP system this could be a real long-term advantage for your business. Since the service is delivered via Ethernet the capacity is infinite. (Or limited by the telco equipment).
Have you implemented Ethernet (Metro E, EoC) at your business? We welcome your comments!
WheelHouse Solutions strives to provide exceptional service to businesses of all sizes. Understanding how our clients' businesses function, on a day-to-day basis, allows our team to design IT solutions that align with their vision and objectives.
We take pride in the many accolades we've received, from business owners, who are now thriving by utilizing IT technologies deployed by WheelHouse. It's easy to recommend a technology solution, but WheelHouse stands behind our commitment to provide customized and scalable solutions that are as unique as each of the businesses we are proud to serve.  Feel free to contact us at 314-492-2506 or at WheelHouse Solutions and we'll work with you to develop a solution that will meet your needs now, as well as provide for future growth and flexibility.