Cloud storage has so many great solutions for those seeking to eliminate hardware around their company plus as a disaster recovery solution for company data. While we've recently shown how your data is easily recoverable through the cloud if your company ends up destroyed in a disaster scenario, we want to show you how the cloud works in rethinking how you use business hardware.
You've like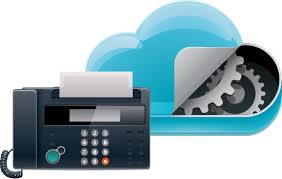 ly heard the term "as a service" as a cloud solution, and usually abbreviated with an acronym of "aas." Things like "Software as a Service", for instance, allows you to access the software through the cloud so you don't need to buy the software outright. This already saves you money in buying the software, plus eliminates worry about being left up in the air if the software crashes.
These kind of services are available in other ways, including placing your entire desktop in the cloud. But computer hardware services are available through the cloud as well, which now includes faxing.
You have numerous ways why having cloud faxing helps bring an efficiency you've never had before. It also fits right in with the disaster recovery scenario.
Never Missing Important Business Faxes
While some may think faxing is an outdated method in the age of other wireless technology, it isn't. Most companies still depend on faxes extensively for sending and receiving documents. As with all hardware, though, things break down at the worst possible moments. You might be in the middle of sending an essential business fax to an associate, and your fax machine suddenly jams or shuts down.
If you're on a budget, you may not have another fax machine readily available for use. Borrowing one from a nearby business or friend also isn't practical if they're busy using theirs for business.
With cloud faxing, you merely go online and send a fax internally. Through this service, you still have your own fax number, plus you have innovative variations for sending a fax.
Ways to Send Faxes During Times of Emergency
If you also have VoIP service for your phones, a fax is easily sent through this method as well since VoIP is also connected online. And during those times you'd rather send a document via email, it's easily done through a Fax to Email service. This is very useful, especially for mobile devices when someone needs to view a document right away while on the go.
Direct Internet faxing is even available when you need to send to anyone online. When disaster strikes and your business equipment is completely destroyed, imagine how fast you'll be able to get back on your feet having everything accessible through the cloud. All you need is an alternate place with an Internet line and you'll have everything back, including your fax line.
When it's critical you send faxes during a time of crisis, having it in the cloud is a true gift of technology.
We have this available for you here at WheelHouse Solutions.  Visit us here or call us at 314-492-2506 to find out more about how cloud faxing works and how it's going to save physical space, plus your sanity.