Sangoma Switchbox Business Telephone Systems
WheelHouse Solutions provides Sangoma Switchvox Sales & Service to businesses throughout the United States.
LEARN MORE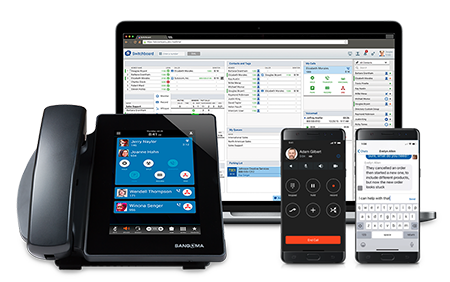 Affordable & Powerful UC Business Phone System
Switchvox is designed for businesses just like yours. With enterprise grade features, an all-inclusive pricing model, and an award-winning design, Switchvox isn't just another VoIP business phone system.
Switchvox is the smarter way for your business to take advantage of Unified Communications (UC) and collaboration tools – without a high price tag. Features like chat, video chat, quick dial, status, presence, and call rules all work together to allow your staff and clients to interact more efficiently.
All Features Included
Your business needs an IP PBX that is flexible enough to keep pace with your rapid organizational changes. Sangoma's Switchvox is the only solution that seamlessly grows and adapts with your business. Unlike other IP phone system solutions, Switchvox uses the same robust software, regardless of how it's installed. That means your business has the ability to move from an on-premises deployment today, to a cloud-based deployment tomorrow – quickly and easily.
Advanced Business Phone System Features at an Affordable Price
Traditional phone systems would require individual feature licenses for major applications like voicemail, faxing, and IVRs. With Switchvox, your company can simplify its communications down to one powerful solution delivered on-premise or hosted in the Cloud. Get mobile apps, call recording, desktop faxing, call routing, presence, and much more – all at one affordable price.
D-Series IP Phones
D-Series IP phones offer the tightest integration possible with Switchvox phone systems. They feature simple setup and provisioning with plug-and-play installation.
D-Series phones for Switchvox include graphic icons on the buttons and support for multiple languages (including English, Spanish, French, Italian, Dutch, German, and Portuguese) to ease deployment in all areas of the world.
Enhanced on-board productivity and collaboration applications means your employees work as efficiently as possible and your business runs at peak performance.
S-Series IP Phones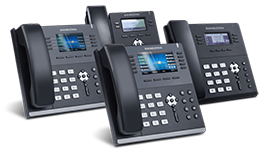 Sangoma's S-Series IP phones feature Zero-Touch auto-provisioning for PBXact phone systems, which means they are ready to go as soon as they are connected to the network.
S-Series IP phones are designed for productivity and collaboration. The built-in PhoneApps, a bundle of advanced applications, convert all your advanced phone system features into easy-to-use visual applications, which you control directly from the phone's display.
Value-Based Phones

Sangoma's value-based P-Phones (P310 and P315) deliver the essential features you need at the best price point. Perfect for manufacturing, education, and retail environments, these IP phones feature auto-provisioning across Sangoma's product portfolio, including Switchvox, PBXact, FreePBX, and Asterisk.
DECT Phones

Designed to work exclusively for Sangoma phone systems, the DC201 DECT phone package provides businesses with high quality wireless DECT that integrates into your phone system.
The DC201 DECT Base + Handset package supports up to 20 users, giving your staff and colleagues the freedom and efficiency of wireless while moving around. Auto-provisioning with Sangoma's PBXact phone system allows for easy deployment and mass provisioning.
If you would like additional information about the Sangoma Swtichvox VoIP Business Phone System, we invite you to fill out the form on this page and someone will get back with you regarding your telephone system needs.