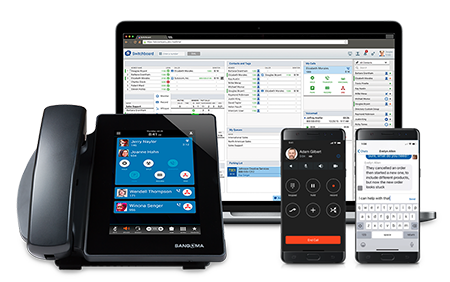 Affordable and Powerful Business Phone System
With top-notch features suitable for large-scale operations, a comprehensive pricing structure, and a recognized design, Switchvox stands out as more than just an ordinary VoIP business phone system.
Switchvox presents a more intelligent approach for business to make the most of Unified Communications (UC) and collaboration tools, all without bearing excessive costs. Functions such as messaging, video communication, rapid dialing, real-time availability status, and customized call guidelines synergistically enhance the efficiency of interactions between team and clients.
All Features Included
Sangoma's Switchvox stands out as the sole solution that seamlessly expands and conforms to your business. The IP PBX can effortlessly adjust to the rapid changes within a growing company. Unlike alternative IP phone system solutions, Switchvox employs consistent software regardless of the installation method, ensuring the flexibility to transition smoothly and swiftly from an on-premises deployment today to a cloud-based deployment tomorrow, without complications.
Advanced Business Phone System Features at an Affordable Price
Conventional telephone systems would necessitate separate licenses for key applications such as voicemail, faxing, and IVRs. Switchvox, on the other hand, can streamline the communication processes through a single, robust solution that can be deployed on-site or hosted in the cloud. Enjoy the convenience of mobile apps, call recording, desktop faxing, call routing, presence management, and numerous other features – all available at a budget-friendly price.
D-Series IP Phones
D-Series IP phones provide seamless integration with Switchvox phone systems, ensuring optimal compatibility. They offer straightforward setup and provisioning, allowing for effortless plug-and-play installation.
The D-Series phones for Switchvox incorporate graphical icons on the buttons and support multiple languages, including English, Spanish, French, Italian, Dutch, German, and Portuguese. This facilitates easy deployment in various regions across the globe.
With enhanced built-in productivity and collaboration applications, employees can maximize efficiency, leading to peak performance for business operations.
S-Series IP Phones
Sangoma's S-Series IP phones come equipped with Zero-Touch auto-provisioning specifically for PBXact phone systems, ensuring seamless functionality upon network connection.
The S-Series IP phones are meticulously crafted to enhance productivity and collaboration. The integrated PhoneApps package transforms advanced phone system features into user-friendly visual applications, allowing for convenient control directly from the phone's display.
Value-based Phones

Sangoma's value-based P-Phones (P310 and P315) provide the necessary features at an optimal price point. These IP phones are ideal for manufacturing, education, and retail sectors. They offer auto-provisioning capabilities across Sangoma's complete product range, including Switchvox, PBXact, FreePBX, and Asterisk.
DECT Phones

Exclusively designed for Sangoma phone systems, the DC201 DECT phone package delivers top-notch wireless DECT functionality seamlessly integrated into the phone system.
The DC201 DECT Base + Handset package offers support for up to 20 users, granting team members and colleagues the flexibility and efficiency of wireless communication while on the move. With auto-provisioning capabilities for Sangoma's PBXact phone system, deployment and mass provisioning become hassle-free.
If you would like additional information about the Sangoma Swtichvox VoIP Business Phone System, we invite you to fill out the form on this page and someone will get back with you regarding your telephone system needs.