What are Managed Services?
Managed Services refer to IT services delivered in a defined manner, with a predictable expense. Typically, managed services are delivered with a remote monitoring and management (RMM) system, that allows WheelHouse Solutions to monitor the health and performance of your IT assets, 24/7. RMM means that we can perform proactive maintenance, efficiently, to stabilize your IT environment, and respond with rapid remote remediation, when things go wrong.
Business With Managed Services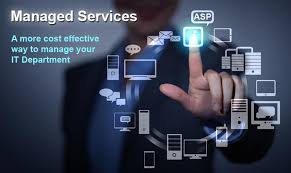 Business without managed services is more reactive, costly, and unpredictable. Consider the impact of unscheduled downtime, caused by a virus or technical failure. A Gartner study revealed that each unmanaged desktop costs businesses an average of $4000 a year, in emergency services, lost productivity and opportunity costs, with an annual total cost of ownership (TCO) that is typically 42% higher than for managed PCs and 29% higher for unmanaged laptops.
With WheelHouse Solutions, you can expect to experience a dramatic reduction of unscheduled downtime and lower IT costs, because problems will be detected and resolved faster – often before you're even aware of them. Managed services also help you reduce and optimize your IT spending, keep more of your internal resources focused on core business activities, and arms you with accurate data about the health and performance of your IT assets.
Compliance Concerns?
If you have compliance concerns, WheelHouse Solutions spends a lot of time helping organizations meet compliance. For more information, see The WheelHouse Solutions Advantage. Our team keeps compliance in mind throughout our engagements with clients.
Advantages of Managed IT
WheelHouse Solutions delivers best-in-class monitoring and management of all your IT assets, with the use of hundreds of policy modules. Policy modules are sets of monitoring and alerting rules, developed in partnership with leading vendors, like Microsoft, Intel, Cisco, Symantec, and others. Policy modules help ensure that everything in your IT environment is being effectively monitored and alerted on, and puts performance-related data at our fingertips. Detailed, accurate data also helps expedite diagnostics and resolution when IT issues do occur.
Open-Architecture means easy integration
Because the managed services platform we use has an open architecture, any customer environment, no matter how diverse, can be easily integrated. Any changes, such as the addition or removal of systems, devices, and software are detected, automatically and accommodated, smoothly.
The Do-IT-Yourself Scenario
An IT problem occurs.
You discover the problem.
Team member sets aside core business tasks and begins investigating and researching the problem.
Best case: Problem is diagnosed accurately and resolved promptly on the first attempt.
Worst case: Problem requires multiple attempts at diagnosis and resolution; a team member who attempts to fix the problem accidentally aggravates it; parts or external services must be ordered.
Problem is resolved
Results
If the best case unfolds, one or more resources are taken off core business activities for a partial or full duration of problem diagnosis and resolution, resulting in loss of productivity. If anything less than the best case unfolds, significantly more time is required to resolve the issue, resulting in more lost productivity on core business activities. In the worst case, additional unplanned expenses are incurred, including the costs of downtime: reduced productivity and lost opportunities.
The Managed IT Scenario
Results
You get the right technology expert on the job from the start, with fast, reliable resolution
Your team stays focused on core business activities
Many issues are detected and resolved proactively before you even notice
Downtime is significantly reduced or even eliminated, with no more costly surprises