Conference calling is a telephone call method in which the calling party wishes to have more than one called party listening to the audio portion of the call.  Conference calling is a full duplex process means the calling party can speak and listen at the same time. However, the conference calling system may be set up so that the called party merely listens to the call and cannot speak.
The tec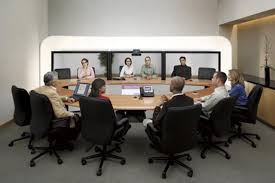 hnology of video conference calling is also present in the market. The conference calling system is very easy to use. In no time, a group of 30 people can be linked together over the phone for an important meeting. It is a very cost-effective system for your business because it provides the opportunity for virtual conferences. You can save tons of money with its implementation in your offices. The benefits of conference calls are evident, and this useful telecommunications technology is quite simply a necessity in today's business world.
Conference calling is the most economical way to communicate with business clients, staff, and even family for those that live far away. By allowing many people to participate in a call at the same time, conference calling eradicates the need for multiple telephone conversations. With a suitable conference calling plan, the can fit any budget, conference calls prove to have economic benefits for both business as well as at home. Regardless of how you use conference calls, the service will save you money.
Organizations use conference calling to make sure that their businesses are running effortlessly and efficiently. It will make the things easy for the organization's head because he only has to deliver your message once, saving the precious time, which is worth money. It will also help in saving money on travel costs because you won't have to send your representatives to different places to conduct all of your meetings. There will be no more expenditures of airfare, lodging, and others, on your staff. The conference calling will enable your organization to grow faster because of these reduced costs. This will turn your business having a surplus in no time.
Additionally, conference calling can improve the communication among the staff because now, they can get together more often. They can easily find solutions to the tricky problems by arranging a conference call to their support team. All in all, conference calling is an ideal solution for businesses.
WheelHouse Solutions is a respected and successful Managed IT Services Company, offering a diverse range of Managed IT Services & Telecom Services.  We will work together with you, as a partner, to get your IT assets performing optimally and help you focus on strategic priorities in your business, that can help spur growth and increase revenues.
Our goal is to help your business succeed and to ensure that the road to success is a smooth one. We invite you to click here or call us at 314-492-2506 to request a free IT & Voice Services evaluation today.