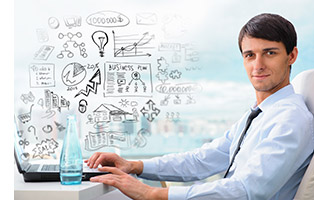 There's a lot of buzz in IT circles, today, around the idea of "Intent Based Networking" or IBN. But what exactly is "Intent Based Networking" and how can it benefit today's modern organizations?
Because of the significant advances in machine learning algorithms, intent based networking could soon be a reality in most businesses. The idea around IBN is that a network administrator can specify a desired "state" of the network, such as adding users in remote offices, or removing devices from the network, and the IBN will perform the software functions required to implement the requested states, without the need for human intervention. All IT administrators want massive scalability, multi-vendor device management, better access control and better security and IBN will deliver on all of that and more.
Here are just a few of the benefits of IBN:
IBN is Highly Scalable
In a traditional network setting, your ability to scale is limited by your human resources. If developers have to write all of the rules to expand the network, growth can be hamstrung by your human resource limitations. If IT staff has to write all of the rules and configurations necessary to expand the network, growth remains slow, not to mention expensive.
In contrast, IBN allows the software routines to handle the tasks associated with adding users and expanding. When a machine on the network is able to add new devices or manage load balancing or bandwidth settings in response to intent based parameters set up by the network administrator, scalability becomes easy and practically infinite.
Multi-Vendor Device Management
Traditional network management depends upon network administrators knowing multiple shell languages for various vendors, as well as the myriad of protocols that function across the network. Keeping up with changes, as new protocols and updated devices are introduced, can be challenging, if not impossible.
IBN eliminates the need for network administrators to become subject matter experts on various vendors since "intent" is universal to all vendors, devices and software releases on the network. Adding a new user to a storage device with IBN, for instance, is the same process whether it's a premise device, a cloud device or a combination of the two.
As well, if you want to modify your VPN configurations, for instance, so that you can move your printers to a private network, it's not necessary to know which type and version of VPN software you're working with, or which company manufacturers your routers. The network administrator simply specifies the desired state of the network and the IBN completes the task without the need for human intervention.
IBN Significantly Strengthens Access Control
In most complex IT environments today, giving specific users access to specific resources and devices can be a time-consuming and tedious exercise, requiring significant time on the part of the network administrator to parse access control and firewall settings manually. That approach may seem acceptable if you're only working with a small number of users but when you're trying to scale and are trying to handle thousands of users, in addition to various credential management systems, you can see how it can be overwhelming.
Using IBN, you can easily instruct the management platform to block access to a specific server for everyone except one department, for example. The software discerns how to do that on its own and makes the necessary updates to the files and system configurations without human intervention.
Humans Make Mistakes. Machines, Not So Much
Human beings make mistakes, particularly when there are a lot of complex, time-consuming tasks that have to be performed in short order. When modifying network configurations or configuring firewall rules in a traditional network setting, it's simple and even common to overlook something or make an error that creates a security issue or causes other problems within the network.
Machines are more predictable and reliable. They don't get sloppy when they are fatigued or when they're performing redundant tasks, in rapid succession. In addition, when configured to double-check the work or test it for flaws, machines are significantly more conscientious about doing so than most human beings. Because of this, IBN reduces the chance that something will be missed or will be incorrect when you're updating the network.
WheelHouse Solutions has been providing Managed Services in St. Louis, Missouri since 2000. If you would like more information on Intent Based Networking and how it can save your business time and money, fill out the form on this page and someone from our company will get back with you.