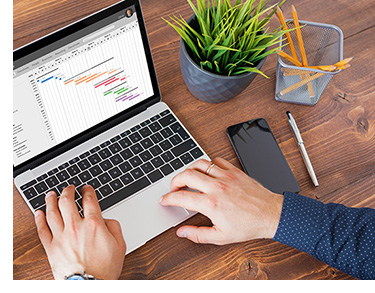 Business operations today move at a relentless pace, demanding that organizations stay at the forefront of technology. Having the right software solutions is no longer a luxury, it is a critical necessity for staying competitive and achieving enduring success.
Microsoft has risen to the occasion by offering a comprehensive range of business software that caters to the diverse needs of enterprises. With their innovative solutions, Microsoft empowers organizations to streamline operations, foster collaboration, and drive exponential growth in the face of ever-evolving challenges.
Microsoft 365
Previously called Office 365, Microsoft 365 is a productivity suite hosted in the cloud, featuring well-known applications such as Word, Excel, PowerPoint, and Outlook. This comprehensive package offers smooth integration and collaboration functionalities, promoting efficient teamwork and constant connectivity. Microsoft 365 also incorporates OneDrive, a cloud storage solution, allowing convenient file accessibility and sharing across various devices.
Microsoft Azure
Renowned as a top-tier cloud computing platform, Microsoft Azure offers an extensive range of services, encompassing virtual machines, databases, artificial intelligence, and analytics. It guarantees scalable infrastructure, promoting excellent availability and peak performance for web applications and websites. With its content delivery network (CDN), Azure aids businesses in delivering content at a faster pace, thereby enhancing user experience and elevating SEO rankings.
Microsoft Dynamics 365
Enabling businesses to gain deeper insights into customer interactions, this comprehensive CRM and ERP solution empowers them to foster better customer understanding and engagement. Dynamics 365 seamlessly integrates sales, marketing, customer service, and field service operations, offering a unified platform for valuable insights. By harnessing customer data analytics, companies can optimize their marketing strategies and improve SEO efforts, tailoring them to customer preferences and behavior.
Microsoft Power BI
A robust business intelligence tool, Power BI empowers organizations to visualize and analyze data from diverse sources. Through interactive dashboards and reports, businesses acquire valuable insights to facilitate data-driven decision-making. With its exceptional data visualization capabilities, Power BI is instrumental in identifying SEO trends, website performance metrics, and user behavior.
Microsoft Sharepoint
SharePoint stands as a versatile platform for collaboration and content management, fostering teamwork and knowledge sharing. It enables businesses to develop intranet portals, manage documents, and automate workflows efficiently. With effective content organization, companies can enhance website structure and user experience, leading to positive SEO outcomes.
Microsoft Power Automate
Previously known as Microsoft Flow, Power Automate represents a workflow automation tool seamlessly integrating with numerous Microsoft and third-party applications. Through the automation of repetitive tasks and processes, businesses can significantly boost productivity and efficiency, enabling the allocation of resources towards more strategic SEO initiatives.
Microsoft Teams
Teams serves as an integrated communication and collaboration platform that promotes teamwork, offering real-time chat, video conferencing, and file sharing functionalities. Businesses can utilize Teams to collaborate among remote teams and external stakeholders, ensuring smooth communication for SEO planning and implementation.
Microsoft's suite of business software solutions offers a comprehensive set of tools and services to foster success. From productivity and collaboration with Microsoft 365 and Teams to cloud computing with Azure, and data analytics with Power BI, Microsoft's software offerings cater to the diverse needs of businesses. By using these powerful tools strategically, organizations can streamline operations, optimize SEO efforts, and unlock new opportunities for growth.
If you would like more information about our Microsoft Business Software solutions, fill out the form on this page and someone will get back with you or call us at 314-492-2506.