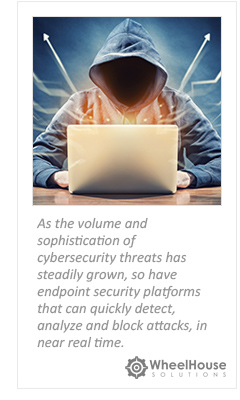 Endpoint Security is the practice of securing network devices such as desktops, laptops, and mobile devices in order to prevent them from being victim to malicious hackers, scripts, viruses and malware. Simply put, endpoint security protects devices and users on a network, or in the cloud, from cybersecurity attacks and is a vital part of enterprise cybersecurity. While Endpoint security includes antivirus software, it also provides more sophisticated monitoring and protection than antivirus alone. Endpoint security is cybersecurity's frontline, and is one of the first steps businesses deploy in order to secure and protect their networks.
As the volume and sophistication of cybersecurity threats has steadily grown, so have endpoint security platforms that can quickly detect, analyze and block attacks, in near real time. An advanced endpoint security solution can provide network administrators with visibility into advanced threats in order to speed detection and remediation response times.
Why Do I Need Endpoint Protection?
In today's business environment, data is the most valuable asset that a business owns. If companies are unable to recover or access their data, they are effectively out of business. Many organizations have also had to contend with not only a growing number of devices on the network, but also an increase in the number of different types of devices, all of which may contain confidential or proprietary data. These factors make enterprise endpoint security more complicated. As well, the problem is compounded if a business has a remote workforce and BYOD (Bring Your Own Device) policies in place, creating additional vulnerabilities and challenges for administrators.
How Endpoint Security Works
Endpoint security safeguards the data and workflows associated with the myriad of devices that are connected to the network. Endpoint protection works by examining files as they enter the network and comparing them against a constantly changing database of threat information. Accessing this data in the cloud also increases the speed and scalability of detection. When endpoint security is deployed, it can quickly detect malware and other threats before they result in a loss of data or productivity. Some solutions also provide for the detection of more advanced threats, such as polymorphic attacks, zero-day attacks and fileless malware, to name a few. By employing comprehensive endpoint protection, you will prevent catastrophic data breaches by being prepared for the unknown.
Endpoint security components typically include:
Near real time detection of zero-day threats, utilizing machine learning
The ability to detect, protect and correct devices across the network from malware and viruses, regardless of the device or operating system.
Browser based web security to protect users from malicious content on the web
Data loss prevention and data classification to prevent breaches
Integrated firewall that blocks hostile attacks on the network
Email gateway software that blocks phishing attacks and prevents social engineering attempts that seek to trick your employees
Actionable threat forensics that gives network administrators the ability to quickly isolate and remove threats and infections
Safeguards against unintentional or malicious actions by former or present employees
Threat Management Dashboard to improve visibility and simplify operations on the network
Email and disk encryption to prevent data exfiltration
If you would like more information about Endpoint Security & Protection, please fill out the form on this page and someone will get back with you promptly or call us at 314-492-2506 to speak with someone immediately.