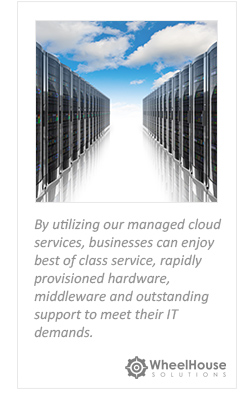 Managed Cloud Services are helping companies optimize and streamline the management of their mission-critical applications and data. With managed cloud services, businesses can outsource scheduled maintenance, patches, software updates and management of their IT infrastructure, enabling their IT staff to focus on other business-critical objectives.
WheelHouse Solutions provides fully managed IT infrastructure and applications, in cloud-enabled environments. By utilizing our managed cloud services, businesses can enjoy best of class service, rapidly provisioned hardware, middleware and outstanding support to meet their IT demands.
As one of St. Louis, Missouri's premier providers of managed cloud services, WheelHouse solutions also offers cloud hosting services hosting services, as well as a team of cloud service specialists to help our customers effectively manage their IT infrastructure.
Managed Cloud Services Options from WheelHouse Solutions
Colocation Services that provide reliable, enterprise-class hosting for businesses, ensuring dependable environments to protect and ensure the continuity of business-critical applications, network services and digital assets
Managed Application & Middleware Server services that offer implementation, configuration, monitoring, maintenance, upgrades and patches for application/middleware servers hosted at WheelHouse data centers
Managed Database Services that include implementation, administration, support, maintenance and data optimization, as well as reliable disaster recovery services
Managed Network Services, including data protection and disaster recovery solutions that minimize downtime, allowing your IT staff to focus on mission-critical needs
Managed Security Services that provides network intrusion prevention and detection, real-time log flow analysis, vulnerability assessments and 24/7/365 monitoring and management
Managed Server Services that provides a scalable and reliable physical server, as well as VM management services that ensure your servers are running at peak performance
Managed Storage Services include reliable and resilience storage capabilities to protect and recover your data more quickly
Managed Web Server Services that include implementation, configuration, maintenance, monitoring upgrades and patches of Web servers hosted within WheelHouse data centers
Benefits of WheelHouse Solutions Managed Cloud Services
Your employees can work more efficiently, focusing solely on your business objectives, rather than IT related tasks
Your company can scale its IT infrastructure, quickly and easily, to meet your current demand, while ensuring that your applications perform reliably in the cloud
Managed Cloud Services can lower your IT costs, by reducing or eliminating out-of-pocket expenses, in addition to reducing the cost of heating, cooling and real estate
With Managed Cloud Services your business retains control over your resources, hardware and bandwidth, while outsourcing the problem-solving to the cloud services experts at WheelHouse solutions
Your organization can utilize the cloud to ensure security, compliance and operational standards of excellence, within your industry.
WheelHouse Solutions provides Managed Cloud Services throughout the St. Louis metro area. We invite you to use the form, on the right side of this page, to request additional information about our Managed Cloud Services. We'll work with you to develop a solution that will meet your needs now, as well as provide for future growth and flexibility.