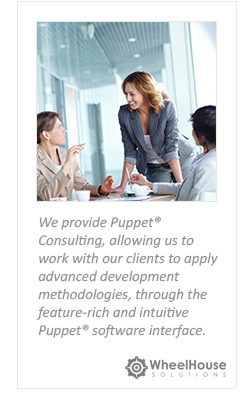 As a leading software solution, Puppet® offers powerful capabilities for efficiently managing and automating IT infrastructure. Our objective is to collaborate closely with our clients, utilizing advanced development methodologies, to ensure seamless deployment of IT infrastructure using the user-friendly Puppet® software interface.
Puppet® Consulting & Installation Services
Consulting and technical support to aid in the rapid integration of Puppet Enterprise into your IT environment.
Designing Puppet Enterprise® to align with your company's IT management and automation objectives.
Providing technical training to equip your IT staff with the necessary skills to effectively automate IT infrastructure using Puppet®.
Enabling you to expand your service offerings by subcontracting our consultancy services, particularly in Puppet® Consulting.
Effortlessly Model & Manage Your IT Environment
Puppet Enterprise® empowers you to efficiently manage your entire IT infrastructure through code, eliminating the need for additional hires. With Puppet®, you can utilize developer tools such as version control, automated testing, code review, continuous integration, and automated deployment. By visualizing your infrastructure as code, Puppet Enterprise® facilitates seamless collaboration between devOps and QA teams across your organization. Puppet Enterprise® empowers your IT staff to expedite deployment speed and elevate software quality.
Intuitive Visual Workflows
Puppet® enables your IT staff to easily deploy phased infrastructure and application bundles using intuitive visual workflows. Through Puppet®, you benefit from automatic assignment of operation sequences, secure data exchange between services, and intelligent wait-for conditions to ensure smooth deployment. This streamlines the process by determining the correct order of operations and coordinating dependencies, enhancing the efficiency and reliability of your deployments.
Puppet® provides an intuitive graphical reporting feature, enabling your IT staff to effortlessly evaluate the setup of your infrastructure and applications, including the interrelationships and dependencies with other software applications. Real-time insights allow your staff to promptly identify any changes, the responsible employee, and the underlying cause of an issue, whether accidental or intentional. This comprehensive visibility accelerates troubleshooting in your IT environment, minimizing potential issues, and reducing the mean time to recover.
Automate Your IT Environment with Puppet
Puppet Enterprise® simplifies the automation of any network device with an IP address, facilitating swift and effortless implementation. By providing a universal language for your IT environment, Puppet Enterprise® ensures seamless delivery and management of all devices and applications, irrespective of the software being used or its location.
Puppet Enterprise® Capabilities:
Automated provisioning: across your diverse infrastructure.
Orchestration: change with control, visibility, and automated intelligence.
Configuration automation: define and consistently enforce infrastructure configurations.
Situational awareness: gain insight into your infrastructure, audit changes, and receive detailed reports.
Code management: manage infrastructure code across environments.
Node management: streamline the manual work of classifying and managing nodes.
Role-based access control: assign permissions to teams based on company and regulatory policies.
Discovery and insights: discover resources requiring automated management.
Puppet® software enables system administrators to proactively manage modern and dynamic IT infrastructure with operational efficiency, agility, and insights. Whether scaling from a few servers to hundreds, across cloud and on-premises environments, Puppet® serves as the go-to solution for effective IT environment management. Trusted by leading organizations worldwide, Puppet® software is the preferred choice.
Headquartered in St. Louis, Missouri, WheelHouse Solutions offers an array of services beyond Puppet® Consulting, including Puppet® installation, Puppet® configuration, Puppet® support, Puppet® troubleshooting services, Puppet® emergency assistance, and Puppet® remote support to businesses in the metro area. For more information about Puppet®, please complete the form on this page, and one of our representatives will get back to you.