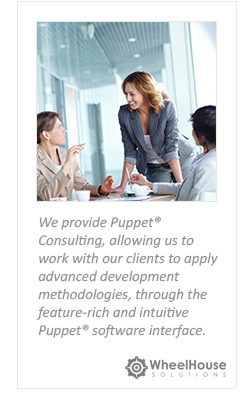 WheelHouse Solutions provides Puppet® Consulting, in St. Louis, Missouri, allowing us to work with our clients to apply advanced development methodologies, in order to deploy IT infrastructure, through the feature-rich and intuitive Puppet® software interface.
Our Puppet® Consulting & Installation Services Include:
Consulting and technical resources to assist you in rapidly deploying and implementing Puppet Enterprise into your IT environment
Designing Puppet Enterprise® so that it's configured to meet your company's IT management and automation goals
Providing Technical training to your IT staff, to ensure they are equipped to utilize Puppet® to automate IT infrastructure
Subcontracting our consultancy services so that Puppet® Consulting can be added to your services offering
Easily Model & Manage Your IT Environment
Puppet Enterprise® allows you to manage your entire IT infrastructure, in code format, without hiring additional staff. Puppet® allows you to use the same tools that developers use, such as version control, automated testing, code review and continuous integration and automated deployment. Having the ability to see your infrastructure as "code" makes it easier for devOps and QA teams to collaborate, across your organization. Simply put, Puppet Enterprise® allows your IT staff to maximize the speed of deployments and improve software quality.
Intuitive Visual Workflows
Puppet® allows your IT staff to deploy phased infrastructure and application bundles using comprehensive visual workflows. Puppet® automatically assigns the correct order of operations, what data needs to be securely exchanged between services, and when to wait for a service to become available before continuing the deployment.
With intuitive graphical reporting, your IT staff can easily determine how your infrastructure and applications are configured, as well as the relationships and dependencies with other software applications. Your staff can quickly discern what changed, in real time, which employee made the change and what caused the issue, including whether it was accidental or intentional. Puppet® allows you to troubleshoot your IT environment much more quickly, minimizing issues and reducing mean time to recover.
Automate Your IT Environment with Puppet
If your network device has an IP address, it can be quickly and easily automated using Puppet Enterprise®. Puppet Enterprise® provides your IT environment with a common language so that, no matter what software you're running, and where it runs, Puppet® can deliver and operate all of your devices and applications.
Puppet Enterprise® Capabilities
Automated provisioning – Automate provisioning across your heterogeneous infrastructure
Orchestration – Orchestrate change with control, visibility, and automated intelligence
Configuration automation – Define and continually enforce infrastructure configurations
Situational awareness – Gain insight into your infrastructure, audit changes and get rich reporting
Code management – Manage infrastructure code across environments
Node management – Save yourself the manual work of classifying and managing nodes
Role-based access control – Assign permissions to teams in line with company and regulatory policies
Discovery & insights – Quickly discover resources that need automated management
Puppet® software allows system administrators the operational efficiency, insights and agility they need to proactively manage today's dynamic IT infrastructure, scaling from tens of servers to hundreds, both in the cloud and on-premise. Thousands of the world's largest organizations utilize Puppet® software to manage and configure their IT environment.
In addition to Puppet® Consulting, WheelHouse Solutions also provides Puppet® installation, Puppet® configuration, Puppet® support, Puppet® troubleshooting services, Puppet® emergency help and Puppet® remote support. We invite you to fill out the form on this page to find out more about our Puppet® consulting services, in St. Louis, Missouri, and one of our representatives will get back with you, quickly.