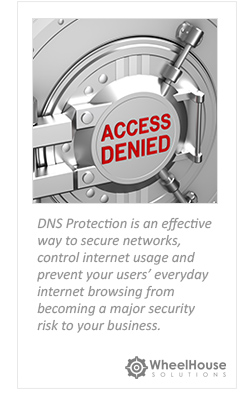 While it may be common to overlook the importance of internet connection security, this can lead to issues. Most internet service providers (ISPs) offer connections that are neither secure nor safe. The ISP merely accepts any URL request, checks it with the DNS server, and establishes the connection for the user without investigating the routing of the request. Furthermore, their DNS servers may lack proper security measures, putting all their customers at risk of losing internet access if the server is targeted. Fortunately, there is a superior solution available to guarantee the security and safety of your company.
The Wheelhouse Approach
WheelHouse Solutions, a leader in cloud-based IT security services, stands out with its ability to provide cutting-edge DNS-level protection. This advanced security solution, known as DNS Protection, offers remarkable effectiveness and presents a simple approach to safeguarding networks, managing internet usage, and mitigating the potential security hazards associated with everyday user browsing.
Connectivity, Reliability, and Scalability
Our DNS Protection service provides resolver servers distributed across various global points of presence, equipped with automatic load balancing and failover mechanisms. This ensures that regardless of the request's origin, it is swiftly handled at the nearest datacenter or global point of presence, even in the event of any issues. These DNS resolver servers utilize state-of-the-art hardware and have undergone comprehensive hardening measures to protect against DNS cache poisoning, DDoS attacks, and other malicious activities that specifically target DNS servers. Furthermore, they boast immense processing capacity and scalability, capable of handling an impressive 30 billion requests per second within each cluster. With WheelHouse's DNS Filtering, businesses can rest assured of a highly secure and reliable internet connection that remains consistently available.
IPv4, IPv6, HTTP, and HTTPS Traffic Filtering
Routing your internet traffic through DNS Protection offers a notable security advantage: it promptly resolves both HTTP and HTTPS requests. Our comprehensive filtering system covers all internet traffic originating from any network device, ensuring thorough protection. Moreover, our DNS Protection solution stands out as the only service that provides complete coverage for both IPv4 and IPv6, which now represents approximately 25% of internet traffic.
Universal Filtering for WiFi and On- and Off-network Access
DNS Protection delivers extensive filtering capabilities that cover both on-network and off-network requests, including those from guest and visitor WiFi connections. It provides finely tuned access control policies that can be implemented at different levels, including network, access point, group, and individual user access, enabling meticulous control over filtering rules. Furthermore, DNS Protection ensures filtering for roaming users, guaranteeing consistent and robust security measures regardless of their location.
Powered by World-class Threat Intelligence
For utmost accuracy in web classification intelligence, our DNS Protection undergoes continuous updates at intervals of five minutes or less. Frequent updates ensure that the system has the latest information, facilitating precise and dependable website classification.
Machine Learning
Since 2007, our DNS Filtering solution has employed machine learning to accurately classify and categorize URLs. Equipped with a cutting-edge sixth-generation machine learning architecture, our system intelligently analyzes web threat data from diverse reliable sources, including real-world customers. With our DNS Filtering platform, we conduct a minimum of three scans of the entire internet every day, providing comprehensive coverage. Our solution continuously correlates and contextualizes global threat data in real and near-real time, delivering timely and precise insights. By leveraging this up-to-date, accurate, and reliable data, our DNS Filtering solution automatically blocks internet requests directed to suspicious or malicious addresses with exceptional accuracy. This proactive approach enhances security measures, effectively protecting users from potential threats.
Stops 88% of Internet-borne Malware
With DNS Protection, we can showcase the remarkable level of access control and security it provides by addressing the growing threat of crypto jacking. Our solution allows users to access websites compromised by crypto jacking scripts and consume their content. However, connection requests originating from these crypto jacking addresses are swiftly rejected, effectively neutralizing the threat. DNS Protection extends its protective measures beyond crypto jacking. It automatically blocks more dangerous requests, including those aimed at command-and-control servers, spam relays, botnets, phishing sites, and malware sites. By leveraging DNS Protection, businesses and managed service providers (MSPs) can effectively thwart up to 88% of malicious inbound network traffic, ensuring a significantly heightened level of security. DNS Protection offers a robust defense mechanism that safeguards organizations and their users against a wide range of threats. It enables safe and secure access to desired content while maintaining a strong line of defense against malicious activities.
DNS Filtering & Protection at a Glance
Ensure a secure and dependable internet connection with our globally distributed network of robust DNS resolver servers, guaranteeing continuous availability.
Experience the convenience of our cloud-based network security layer, eliminating the need for on-site hardware installation. With a quick setup process that takes just a few minutes, you can enjoy the benefits of enhanced security without any hassle.
Advanced traffic filtering capabilities, supporting IPv4, IPv6, HTTP, and HTTPS protocols; comprehensive filtering system covers all devices and users who request an internet connection, ensuring a secure browsing experience for everyone.
Eighty web categories – take advantage of our wide-ranging web categorization options that empower you with precise user access controls. With our solution, you can implement granular access restrictions, allowing you to define and manage user permissions with great detail and specificity.
Roaming and mobile user protection – additional layer of protection extends security measures to users who are connecting from outside the network, providing comprehensive coverage and peace of mind wherever they may be.
WiFi and guest network protection – DNS Protection secures all device types, including Windows®, Linux, Apple® and Android® devices, across guest, WiFi, and corporate LAN connections.
Policy control by user, group, or IP address – range of deployment options and policy controls to suit any connection scenario. Our robust policy controls allow you to customize and enforce access rules and security measures, ensuring a tailored approach that aligns with your organization's requirements.
On-demand drill-down reporting – solution provides administrators with full network and connection visibility, allowing for comprehensive monitoring and analysis.
Results to Expect
Our DNS Protection offers significant security, visibility, and access control benefits, including:
Full network visibility – complete visibility into the connection requests and their sources; administrators can make informed access policy decisions, enhancing overall network security and control.
Fewer infections – reducing the volume of requests made to malicious and suspicious internet locations; minimize the risk of infections and the subsequent expenses associated with remediation.
Granular and enforceable access policies – control over productivity, employer duty of care, HR, compliance, and more with customizable policy controls at the individual, group, or IP address level.
If you would like more information about DNS Filtering & Protection, please fill out the form on this page and someone will get back with you promptly or call us at 314-492-2506 to speak with someone immediately.