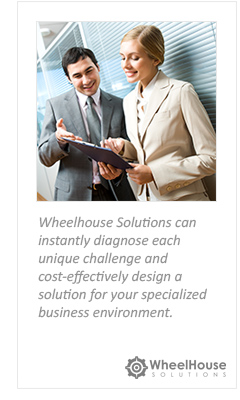 Your IT systems are critical to your business operations. If you're tired of paying for IT consulting from companies that don't understand your business, WheelHouse Solutions will be a welcome change. We provide business IT consulting services throughout the St. Louis, Missouri area.
Why a Consultant?
Making educated technology decisions defines business success, in today's competitive world. For larger companies, one wrong move can equal millions in lost productivity, hardware failure and potential security breaches. For smaller businesses and start up companies, technology guesswork is the fine line between closing the doors and establishing a creative edge in the market.
In recent years, consultants were approached to handle large projects and isolated internal affairs, such as staff augmentation, emerging technology trends, tight budgets and extreme competition. Does the existing infrastructure even make sense? Does it support the current Business Model, or does it handcuff your vision? A successful consultant can instantly diagnose each unique challenge and cost-effectively design a solution for that unique environment.
Top Reasons Our IT Consulting Services are Engaged
IT infrastructure/devices/hosting services need to be fixed or are not performing correctly
Desire to quickly scale IT infrastructure
Need to implement cost-saving measures
Company is faced with significant capital expenditures and legacy equipment problems
Need to adhere to evolving compliance regulations
Need to integrate multiple IT operating environments
Nothing Beats Experience
WheelHouse Solutions can provide the IT expertise that your business needs. We have extensive experience planning and implementing complicated IT projects in a business environment. We'll ensure that your project is managed effectively, analyzing and defining your needs and then creating a scope of work, including project goals and milestones. We're experts at working with third party vendors, to ensure that your IT projects are implemented flawlessly, on time and under budget.
Below are some of the areas in which we provide Small Business IT consulting:
Windows Network
Exchange/SharePoint
Linux/Open source Implementations
Network Infrastructure
Virtualization, Storage Infrastructure
Disaster Recovery Planning
IT Systems Management
Voice & Data Network Integration
WheelHouse Solutions provides Information Technology Consulting throughout the St. Louis metro area. We invite you to use the form, on the right side of this page, to request additional information about our Information Technology Consulting services. We'll work with you to develop a solution that will meet your needs now, as well as provide for future growth and flexibility.