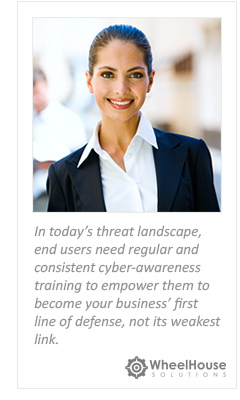 In today's landscape, a business with 100 employees encounters an equal level of cybersecurity risk as a massive enterprise with 20,000 employees. Criminals may have various objectives when targeting a network, ranging from long-term infiltration and theft, to deceiving users and businesses for data or financial gain, or even acquiring user credentials to exploit different areas of the network. They may also try to transform a user's device into a zombie for activities like operating a botnet or acting as a spam relay, or they may engage in cryptocurrency mining. The list of potential malicious actions continues to grow.
In today's ever-changing landscape of threats, it is crucial for end users to receive frequent and consistent training in cyber awareness. This training empowers them to serve as the first line of defense for a business, rather than being a vulnerable point of weakness.
Security Awareness Training offers ongoing, pertinent, and quantifiable cybersecurity education that enables businesses to mitigate user errors that often lead to security breaches and financial losses. As an integral component of the small- to medium-sized business (SMB) platform, Security Awareness Training is effortless to implement and produces tangible outcomes. By leveraging real-time, worldwide threat intelligence, all training materials provided by Security Awareness Training are continuously updated and tailored to ensure timeliness and applicability, instilling confidence in customers regarding the relevance and effectiveness of the courses.
Training Tailored to Your Business
In contrast to other training providers, our primary focus lies in addressing the training requirements of small- to medium-sized businesses. We understand that these customers often face resource constraints when it comes to administering security awareness training, and cost-effectiveness is a critical consideration. WheelHouse Solutions Security Awareness Training is user-friendly, automated, and budget-friendly.
Our Security Awareness Training is delivered as a comprehensive cloud-based software-as-a-service (SaaS) solution. It can be conveniently accessed through the same administrative console utilized for managing our Endpoint Protection and DNS Protection solutions.
Easy to Use and Operate
With our Security Awareness Training, setting up phishing simulations and training campaigns is a breeze, thanks to our straightforward 5-step setup wizard. In just a matter of minutes, you can effortlessly create a campaign by naming it, selecting recipients, choosing a training email template, selecting a training module, and finally, launching the campaign.
With the introduction of new features, you now can combine multiple activities and schedule them over a specific time. You can also efficiently plan and execute training programs across multiple clients on a global scale. The inclusion of reminders, randomization, scheduled training, and automated results reporting streamlines the process of implementing a comprehensive and continuous security awareness program. These functionalities ensure accountability while making the entire process simple and straightforward.
What Results to Expect
According to research conducted by the Ponemon Institute, the implementation of security awareness training programs in businesses has resulted in significant enhancements in phishing email click rates. The study revealed improvements ranging from 26% to 99%, with an average increase of 64%.
During the first six months of usage, Security Awareness Training customers have seen these results:
Phishing click-through rates drop from a 37% average to 12% in six months.
Results are doubly effective if users leverage both phishing simulations and training, rather than simulations alone.
The more training courses you run, the better the results. Running one to five courses over one to two months showed a 37% average click rate. Six to ten courses over three to four months showed a 28% click rate, and finally more than eleven courses over four to six months showed a 13% click rate. Training impact over a year means the average click rate goes from 37% down to 5%, an 86.5% improvement.
Considering the frequency of user errors leading to security incidents, the productivity decline and time invested in resolving and recovering from these incidents, potential regulatory penalties, and erosion of customer trust and reputation, the ability to prevent 86% of such incidents is pivotal, making the distinction between flourishing and facing business closure.
Security Awareness Training at a Glance
Our Security Awareness Training encompasses an intuitive Learning Management System (LMS) that streamlines the management of training with its high level of automation. This comprehensive LMS simplifies the process of training administration, ensuring ease and efficiency.
Five-Step Wizard
By utilizing our wizard, you can significantly reduce the time and expenses associated with administering cybersecurity education programs. Additionally, our automated campaign scheduler allows you to efficiently organize ongoing programs and generate reports within a matter of minutes. This combination of features streamlines the process, enabling you to save time and resources while ensuring effective management of your cybersecurity education initiatives.
Phishing Simulator
We offer an extensive collection of phishing templates that continues to grow, covering a wide range of relevant topics. Our library is region-specific, ensuring the effectiveness and relevance of the templates for targeted audiences. To provide realistic engagement and accurate testing, we incorporate randomization, enabling the simulation of authentic phishing scenarios.
Engaging, Interactive Training
To captivate users and achieve long-lasting results, cybersecurity training should be engaging, interactive, and easily digestible. Our extensive selection of premium courses fulfills these criteria and can be conveniently delivered to end users on a scheduled or ad hoc basis. With just a single click, users can access and launch all courses seamlessly from any browser, whether on a computer or mobile device. Automated reminders are also in place to ensure that users are promptly notified of any pending coursework, leaving no room for oversight.
Customizable, Trackable Training Course Campaigns
With our integrated Learning Management System (LMS), every user's engagement in cybersecurity education is meticulously recorded, ensuring accountability and enabling accurate measurement of progress.
Full Course, Campaign, and Contact Management
Our comprehensive suite of tools, including the course management wizard, contact manager, training email templates, course library, and reporting center, are seamlessly integrated to empower administrators in scheduling and assigning training sessions. User importation is facilitated through Active Directory LDIF, CSV files, or a user-friendly web-based form. Administrators can leverage tags to efficiently group users based on location, department, business unit, or any other relevant category, streamlining the process of assigning targeted training modules.
Scheduled Reporting Center
Gain valuable insights into your phishing campaigns with detailed statistics and generate comprehensive reports to measure progress and return on investment (ROI). Our reporting capabilities allow access to per-user action reports and other relevant metrics, providing a clear view of training outcomes. Our Campaign Executive Summary Report presents a concise overview of campaign data and training results, offering a snapshot of the effectiveness of your security awareness initiatives.
Courses Included
Compliance Courses
PCI DSS
Data Protection (UK/EU)
Compliance UK – The Bribery Act
Compliance UK – Anti-Money Laundering
Compliance UK – Freedom of Information
Compliance UK – Whistleblowing
Compliance AUS – Notifiable Data Breaches
GDPR – Global Data Protection Regulation (UK/EU)
HIPAA Privacy and Security 101
HIPAA for CE or BA
Featured Cybersecurity Courses
Understanding Cybersecurity
Understanding Malware
Understanding Phishing
Working Safely and Securely
Avoid Phishers, Hackers and Social Engineers
Topical Cybersecurity Courses
Social Media Awareness
Phishing Awareness
Websites and Software
Email
Passwords
Physical Access
If you would like more information about Security Awareness Training, please fill out the form on this page and someone will get back with you promptly or call us at 314-492-2506 to speak with someone immediately.