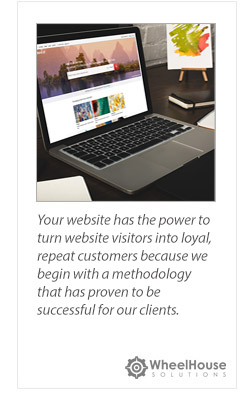 Our website design services are comprised of a comprehensive approach aimed at not only building a website but also guaranteeing its discoverability in search engines through the implementation of efficient search engine optimization techniques. By employing a successful methodology that has yielded positive outcomes for our clients, we harness the potential of your website to transform visitors into devoted, returning customers.
Every website that we design is:
Responsive on every device, from phones to tablets to desktop computers.
Planned and researched before a single pixel is created.
An important part of our customer's online marketing strategy.
Integrated to support our client's sales process.
Flexible, to allow for future growth and expansion.
The focal point of your online marketing campaign is your company's website. By designing and developing it with careful consideration of your target audience, sales cycle, and brand, your website evolves into a top-performing sales representative. It educates users about your company and skillfully converts website visitors into potential customers. The investment you make in a robust website strategy will yield long-term dividends for your business.
From a statistical standpoint, your business website serves as the primary point of interaction with most of your customers. Studies indicate that 78% of Internet users engage in product research prior to reaching out to your company. Within seconds, your website creates an impression that shapes perceptions about your business. What message does your website convey? Does it reflect a professional organization capable of meeting the needs of your target audience, or has it surpassed its prime usefulness?
By conducting client meetings and thorough industry research, we will create a customized strategy for your website project. This strategy will be built upon keyword research, ensuring effective navigation and visually captivating design that engages your website visitors. Our dedicated website design team will proactively identify all necessary resources, including any required third-party service providers, and provide you with a clear timeline for the web development process. We prioritize open communication throughout the entire website development cycle, keeping you and your team informed to eliminate any unexpected surprises.
WordPress Web Site Development
Initially developed as a blogging software, WordPress has grown into a comprehensive content management system, offering a vast array of plugins, widgets, and themes that can be found throughout the web. The software is the result of collaborative efforts from numerous community members. When the time comes to enhance the functionality of your website, you have access to a wide range of plugins and themes, allowing you to transform your web presence.
WordPress notable features:
Simplicity
Specifically engineered to facilitate a seamless process of getting online and publishing your content. Its emphasis on simplicity ensures that you can swiftly establish your online presence and begin sharing your work without delay.
Publish with Ease
Create and format posts and pages with speed and simplicity – insert multimedia elements and publish your changes, making them immediately visible on the web.
Publishing Tools
Simplifies the process of managing your website – create drafts, schedule publications, and enhance the security of posts and pages by assigning passwords, if desired.
User Management
Website administrators hold the responsibility of managing the entire website, while editors possess the ability to update and modify website content. Subscribers are granted their own profiles which they can actively manage.
Media Management
Incorporate media into your website by simply dragging and dropping it into the uploader. You also have the option to add alt text, captions, and titles, as well as insert images and galleries seamlessly into your web pages.
Full Standards Compliance
All lines of code adhere to the established standards defined by the W3C. As a result, your website will seamlessly function across modern browsers, while ensuring compatibility with future browser generations. This guarantees that your website remains flexible, user-friendly, and adaptable now and in the future.
WheelHouse Solutions provides Web Site Design & Development throughout the St. Louis metro area. We invite you to use the form, on the right side of this page, to request additional information about our Web Site Design & Development services. We'll work with you to develop a solution that will meet your needs now, as well as provide for future growth and flexibility.