WordPress Web Site Design
WheelHouse Solutions provides WordPress Web Site Design to businesses throughout the United States.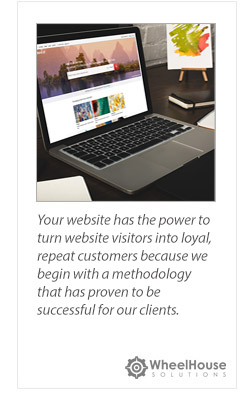 Our St. Louis, Missouri based website design services begin with an all-encompassing plan to not only create a website, but ensure that users can find your website in the search engines by implementing effective search engine optimization strategies. Your website has the power to turn website visitors into loyal, repeat customers, because we begin with a methodology that has proven to be successful, for our clients.
Every website that we design is:
Responsive on every device, from phones to tablets to desktop computers
Planned and researched before a single pixel is created
An important part of our customer's online marketing strategy
Integrated to support our client's sales process
Flexible, to allow for future growth and expansion
Your company's website is the cornerstone of your online marketing campaign. When a website is designed and developed, effectively, taking into consideration your target audience, sales cycle and your brand, it becomes your best salesperson, educating users about your company and converting website visitors into prospects. The money that you invest in an effective website strategy will provide dividends for your business for years to come.
Statistically speaking, your website is where most customers will initially interact with your business. Research shows that 78% of Internet users will conduct product research before contacting your business. It takes only seconds to create an impression about your company, based upon your website presence. What does your website say about your business? Does it convey a professional organization, that can meet the needs of your intended audience or has it outlived its useful life?
Through client meetings and industry research, we'll design a strategy for your website project, based upon keyword research, effective navigation and visually appealing design that will engage your website visitors. Our website design team will determine all of the resources required, in advance, designate any needed third party service providers and present you with a timeline for the web development process. Throughout the entire website development cycle, we'll keep you and your team in the loop, so there are no surprises.
WordPress Web Site Development
WordPress began as a blogging software, but has evolved to be used as a full content management system with thousands of plugins, widgets, and themes available across the web. The software has been built by hundreds of community members, and when you're ready to add even more functionality, there are thousands of plugins and themes available to transform your web site.
Here are some of the features that we think that you'll love.
Simplicity
Simplicity makes it possible for you to get online and get publishing, quickly. WordPress was specifically designed to make that happen.
Publish with Ease
You can create Posts and Pages, using WordPress, format them quickly and easily, insert multimedia and publish your changes live on the web.
Publishing Tools
WordPress makes it easy for you to manage your web site. Create drafts, schedule publications and secure posts and pages with a password, if you'd like.
User Management
Administrators manage the web site, editors can update web site content and subscribers have a profile that they can manage.
Media Management
With WordPress, you can drag and drop your media into the uploader to add it to your website. You can also Add alt text, captions, and titles, and insert images and galleries into your web site.
Full Standards Compliance
Every snippet of WordPress generated code is in full compliance with the standards set by the W3C. This means that your website will work flawlessly in today's browsers, while maintaining forward compatibility with the next generation of browsers. Your website is flexible and intuitive, now and in the future.
WheelHouse Solutions provides Web Site Design & Development throughout the St. Louis metro area. We invite you to use the form, on the right side of this page, to request additional information about our Web Site Design & Development services. We'll work with you to develop a solution that will meet your needs now, as well as provide for future growth and flexibility.