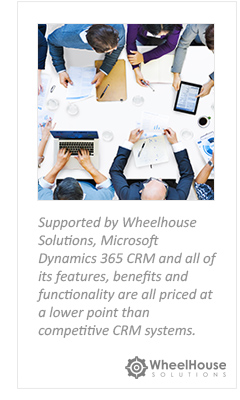 Microsoft introduced its CRM solution, Microsoft Dynamics 365 in 2016. The application equips businesses with improved tools to effectively manage their business relationships, enhance marketing and sales efforts, and improve customer service processes. Dynamics 365 CRM is practical and user-friendly, enabling employees to maximize productivity and providing executives with valuable insights into customer relationships, performance metrics, and potential opportunities. It includes various modules such as sales automation, customer service, and project service, enabling companies to improve communication with customers, team members, and potential clients.
Several factors drive businesses to choose Microsoft Dynamics 365 CRM over competitors. One key advantage is its seamless integration with other Microsoft products like Office 365, Windows Server, Outlook, Exchange Server, and SharePoint, making it easily accessible. Dynamics 365 also offers advanced built-in tools like the Relationship Assistant and LinkedIn Sales Navigator Application Platform, which enhance efficiency and productivity. Additionally, the pricing, deployment options, and architecture of Microsoft Dynamics 365 are highly flexible, allowing companies to customize the system to meet their specific requirements easily.
Microsoft Dynamics 365 CRM integrates with various Microsoft programs, enhancing productivity and performance. By working with Outlook, users can access existing customer information, cases, and sales activities, and utilize the CRM system for tasks like adding new leads, scheduling appointments, logging phone calls in customer records, and tracking emails. Dynamics 365 CRM also integrates with Office 365, offering users the flexibility to select and deploy suitable applications for their business needs. As all the applications are part of the Microsoft umbrella, managing integration and third-party solutions becomes effortless for the user.
Within Microsoft Dynamics 365 CRM, various application types manage different business processes, such as HR, accounting, sales, and workflow. These apps can be used independently or in combination, depending on user preferences. The suite of applications includes sales, marketing, customer service, field service, and project service, all sharing a common platform for adaptability to align with each company's specific requirements. Users can easily carry out tasks like sending emails and scheduling follow-ups within the system. Additionally, they can customize their dashboards to display relevant information for their specific roles, including interactive graphs, reports, and other pertinent data.
Microsoft Dynamics 365 CRM stands out in terms of pricing, offering businesses an affordable option compared to other CRM systems while providing a wide range of benefits and advanced functionality. Microsoft offers three different access levels, each appropriately priced, allowing businesses to optimize their investment by paying only for full access for the users who need it. With its exceptional features and flexible pricing system, Microsoft Dynamics 365 CRM emerges as the preferred choice for businesses.
Headquartered in St. Louis, Missouri, WheelHouse Solutions offers Microsoft Dynamics 365 to businesses in the metro area. We'll work with you to develop a solution that will meet your needs now, as well as provide for future growth and flexibility. For more information about Microsoft Dynamics 365, please complete the form on this page, and one of our representatives will get back to you.