Microsoft Teams Phone System is a seamless way to deliver enterprise voice services using Office 365 / Teams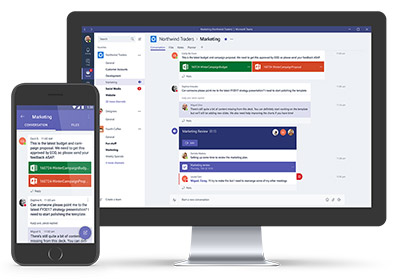 With Microsoft Teams Phone System, businesses can utilize Microsoft Teams as a Cloud PBX phone system or Unified Communications (UC) solution. Microsoft Teams eliminates the need for on-premise infrastructure and enables pure cloud deployment.
Eliminate the costs and limitations of on-premise hardware. Microsoft Teams Phone System can easily scale in conjunction with your Teams deployment.
Use your existing local telephone numbers numbers and inbound services. On the Microsoft Teams platform, numbers will work across all devices and locations.
Use Microsoft Teams to call anyone, anywhere on any device. Calls are delivered via SIP trunks, allowing more effective collaboration than ever before.
Collaborate More Effectively Using Teams
Microsoft Teams is integrated with the Office 365 Suite of products you already know and use.
Your Trusted Microsoft Teams Partner
WheelHouse Solutions will work as your trusted partner to get your Microsoft Teams Phone System implemented. Your internal teams need a professional, trained staff who can work with them to understand their current call flow and how that translates into a seamless voice solution. Our project managers will work closely with your staff to ensure a solid implementation, with a variety of call routing options to meet their business goals.
Phased Approach
Most clients do not wish to replace their phone system, all at once. That's why we take a phased approach to implementing Microsoft Teams Phone System. We'll create a plan that works with your existing phone system, and implement our SIP trunks, giving you access to the PSTN. Our phased approach helps ensure the SIP trunks are implemented successfully, while still maintaining your existing phone system. This lowers your risk and allows you to phase in the new voice solution as users become more acclimated to your Teams solution.
Microsoft Teams Configuration
Even though Microsoft Teams is the fastest-growing application in Microsoft history, there are many eligible customers who have not started using it yet! If you have Microsoft Office 365, it already includes this dynamic software solution to improve team collaboration, across the enterprise. Our staff of certified professionals can help your employees become more comfortable with the application. We can also provide additional Active Directory and Group Policy assistance to get the most out of your Microsoft investment.
Voice Configuration
WheelHouse Solutions is your trusted partner to get your Teams Phone System set up and tested. Additionally, we can help with all of the details to ensure your business receives and handles calls to your unique specifications.
By partnering with WheelHouse Solutions, our trained staff will ensure that your business receives and handles calls in the most efficient manner. Our project managers and service delivery team will help you with Analog Devices, Auto Attendants, Call Queues and Voicemail Configuration, just to name a few. This ensures your Teams Phone System is implemented correctly, the first time, which translates into increased user acceptance and employee satisfaction.
Implementation Services
While most clients are going to use the softphone in Microsoft Teams, some are going to require virtual or on-site implementation services. This could include physical placement and testing of desk phones and second day helpdesk for issues. WheelHouse Solutions can provide these services to your business, ensuring your new voice solution is set up for success.
Training & Support
To fully utilize the Microsoft Teams Phone System solution, some clients may require virtual or on-site training. WheelHouse Solutions can provide personalized training which increases the likelihood that your staff is using the Teams Solution to its full capabilities.
WheelHouse Solutions provides Microsoft Teams Phone System configuration, implementation and training services to customers across the US. With a combined experience of over 200 years in telecommunications, our award-winning, trained implementation team can, quickly and efficiently, work with your organization to seamlessly integrate your voice communications over the Microsoft Teams platform. We help our corporate clients focus on what they do best and operate as an extension of their team.
If you would like additional information on Microsoft Teams, we invite you to give us a call or use the contact form on this page to request additional information. We look forward to working with you to design a solution that will meet your needs now, as well as allow for future growth and flexibility.
Want more information on Microsoft Teams?