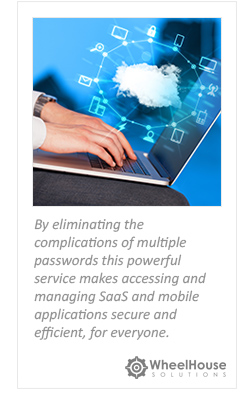 The transition towards Bring Your Own Device and Software as a Service applications, and the prevalence of "shadow IT" is fueling the adoption of password sharing and reuse. As a result, this exposes organizations to higher risks of cyber-attacks, reduced productivity, and increased support costs. Considering these factors, businesses are compelled to explore smarter approaches for controlling access to vital applications and data.
WheelHouse Solutions' Business SSO, supported by security expert AVG, is a simple yet powerful solution that eliminates the complications tied to multiple passwords. SSO guarantees secure and efficient entry to SaaS and mobile applications for all users.
Ease of Use
With WheelHouse Solutions' SSO a single password enables access to all the applications employees use – desktops, laptops, or mobile devices. Users no longer have to manage numerous passwords; reducing the need for password resets which often result in an overwhelming number of help desk requests. SSO simplifies the procedure, ensuring a seamless and trouble-free experience for all users.
Unified Management
SSO integrates identity management, mobile device management, and mobile application management into a cohesive platform, consolidating IT control over cloud and mobile applications on compatible devices. With its comprehensive multi-tenant architecture, SSO allows service providers to effectively manage multiple customers through a unified cloud console.
SSO is a cross-platform solution that harmonizes all compatible devices in one place. It effortlessly supports a range of operating systems, including Windows®, Mac®, iOS, and Android™.
Less Risk, More Protection
SSO also elevates security protocols, offering an additional level of safeguarding through multifactor authentication. This functionality ensures a secure login procedure, regardless of your location or the compatible device you utilize. By mitigating the risks associated with easily remembered, reused, or poorly managed passwords, SSO significantly minimizes the likelihood of a data breach.
SSO also seamlessly combines mobile device and application management, providing effortless protection for business data on mobile devices. Valuable data is securely guarded, even when accessed from mobile devices.
Increased Productivity
End users experience a significant boost in productivity when they can freely utilize their preferred devices for work, without the constant need to search for and reset passwords. SSO alleviates the burden on IT resources by minimizing password reset requests, leading to enhanced productivity for IT teams.
Through its seamless integration with Active Directory, SSO simplifies user management for IT service providers. This streamlined approach not only saves time but also boosts productivity for both end users and IT service providers. SSO guarantees an efficient and productive work environment for all parties involved.
How It Works
Secure Single Sign-On
One password for all devices. Access your applications seamlessly across desktop, laptop, and mobile by entering a single master password.
Multifactor Authentication
Take your users' SSO accounts and individual apps within the portal to a higher level of security by implementing multifactor authentication (MFA). SSO offers support for a range of MFA methods, such as mobile authenticator, email, SMS, security question, and phone call, ensuring an extra layer of protection for access.
Mobile Device Management
SSO includes integrated cross-platform mobile device management, allowing IT providers and users to secure, track, and protect business data on mobile devices.
Mobile Application Management
SSO simplifies the process for service providers to distribute business and in-house mobile applications to end-users' corporate or personal devices. This solution supports the installation of business applications from both the Apple® Store and Google Play™. SSO also seamlessly integrates with the Apple Volume Purchase Program, allowing smooth management of paid mobile applications.
Active Directory Support
Streamline the management of your customers and end-users through the seamless integration of SSO with Active Directory, eliminating the necessity for AD password replication. This capability guarantees effortless management without compromising security. For non-AD customers, SSO offers a cloud directory option, expanding flexibility and compatibility to accommodate a broader range of users.
Flexible Policy Management
SSO can be customized for individual users or groups and can also be extended to manage devices and enforce application access rules.
Multi-Tenant Management
SSO multi-tenant administration simplifies the setup and management of all customer accounts for service providers, enabling them to effortlessly oversee multiple customers from a single interface. This streamlined process provides convenience and efficiency in managing multiple customer accounts through a unified console.
Turnkey Provisioning and Single Sign-On for Office 365
SSO effectively addresses the identity and access challenges associated with Office 365 by offering Active Directory integration without the requirement of ADFS (Active Directory Federation Services) and Provisioning without DirSync (Directory Synchronization).
Reporting
With an intuitive interface and an extensive range of over 40 pre-built reports, SSO offers comprehensive reporting capabilities that can be tailored to meet your specific business needs. Additionally, you have the flexibility to create custom reports using standard SQL queries.
Supported Browsers
Internet Explorer®: version 8 on Windows® XP and Windows® 7 (for the user portal only); version 9 and 10 on Windows® 7 and Windows® 2008R2 server; version 10 on Windows® 2012 server and Windows® 8.
Mozilla Firefox®: version 33 and later.
Google Chrome™: version 37 and later.
Apple Safari®: 8 – version 5 on Mac 10.6; version 6 on Mac 10.7 and later.
Supported Mobile Devices:
Apple iOS®: 4.x, 5.x, 6.x, 7.x.
Android™: 2.3x, 3.x, 4.x
WheelHouse Solutions provides Single Sign On (SSO) throughout the St. Louis metro area. We invite you to use the form, on the right side of this page, to request additional information about Single Sign On (SSO). We'll work with you to develop a solution that will meet your needs now, as well as provide for future growth and flexibility.
Request Information on 6 Months Free SSO & MFA
(This is a Limited Time Offer so act quickly)