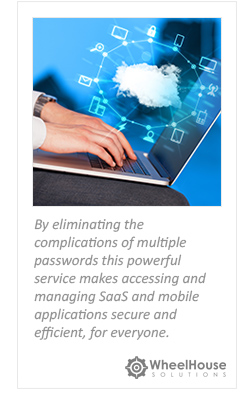 The unstoppable trend towards BOYD, SaaS apps and "shadow IT" is driving password sharing and reuse. The inevitable result is greater exposure to attacks, lower productivity and higher support costs. These forces demand businesses find smarter ways to control access to business critical applications and data.
WheelHouse Solutions Business SSO, powered by security leader AVG, is the answer. By eliminating the complications of multiple passwords this simple but powerful service makes accessing and managing SaaS and mobile applications secure and efficient, for everyone.
Ease of Use
WheelHouse Solutions Business SSO users don't have to remember multiple passwords across applications. Instead, a single password provides access to the apps that employees use, whether they are on their desktop, laptop or mobile device. Eliminate the hassle of getting lost in a sea of passwords and never-ending help desk tickets for password resets.
Unified Management
WheelHouse Solutions Business SSO unifies identity management, mobile device management and mobile application management and centralizes IT control of cloud and mobile applications, on compatible devices. With a fully multi-tenant architecture WheelHouse Solutions Business SSO allows service providers to efficiently manage multiple customers from a single cloud console.
WheelHouse Solutions Business SSO is a cross-platform service that supports all your compatible devices in one place, supporting all OS: Windows®, Mac®, iOS and Android™.
Less Risk and More Protection
WheelHouse Solutions Business SSO offers additional security with multifactor authentication to ensure a secure log on from anywhere, and on any compatible device. Eliminate the risk of easy-to-remember, reused or improperly-managed passwords, reducing the risk of data breach. In addition, with integrated mobile device and application management, you can easily protect business data on mobile devices.
Increased Productivity
End-users will be more productive when they can use the devices, of their choice for work, and when they don't need to spend time tracking down and resetting passwords. In addition, since WheelHouse Solutions Business SSO frees up valuable IT resources, with fewer requests to reset passwords, IT gains productivity as well. With Active Directory integration, user management becomes effortless for IT service providers. In this way, SSO greatly increases productivity for both end-users and IT service providers.
How It Works
Secure Single Sign-On
One password for all. By entering the master password, end-users can access their applications from desktop, laptop and mobile device.
Multifactor Authentication
Add multifactor authentication to protect access to your users' WheelHouse Solutions Business SSO accounts or to individual apps, within the portal. WheelHouse Solutions Business SSO supports MFA with mobile authenticator, email, SMS, security question or phone call.
Mobile Device Management
Mobile devices have become an integrated part of most businesses. WheelHouse Solutions Business SSO includes integrated cross-platform mobile device management, enabling IT service providers and end-users to lock, wipe and locate mobile devices, protecting business data in the cloud, and on devices.
Mobile Application Management
WheelHouse Solutions Business SSO enables service providers to deliver business and in-house mobile applications to end-users' corporate or personal devices. WheelHouse Solutions Business SSO supports installing business applications from Apple® Store and Google Play™. In addition, WheelHouse Solutions Business SSO also supports Apple Volume Purchase Program for paid mobile applications.
Active Directory Support
WheelHouse Solutions Business SSO offers integration with Active Directory without replication of AD passwords for easy management of your customers and end-users. WheelHouse Solutions Business SSO also offers cloud directory for non-AD customers.
Flexible Policy Management
Customizable policy for single users or groups and can also be applied to manage devices and enforce app access rules.
Multi-Tenant Management
Multi-tenant administration to manage all customers from a single interface enables service providers to easily setup and manage all their customers from one single console.
TurnKey Provisioning and Single Sign-On for Office 365
WheelHouse Solutions Business SSO addresses the challenge of identity and access for Office 365 by offering Active Directory integration without ADFS and Provisioning without DirSync.
Reporting
WheelHouse Solutions Business SSO comes with over 40 built-in reports, and includes an interface for creating custom reports using standard SQL queries.
Supported Browsers
Internet Explorer®: version 8 on Windows® XP and Windows® 7 (for the user portal only); version 9 and 10 on Windows® 7 and Windows® 2008R2 server; version 10 on Windows® 2012 server and Windows® 8.
Mozilla Firefox®: version 33 and later.
Google Chrome™: version 37 and later.
Apple Safari®: 8 – version 5 on Mac 10.6; version 6 on Mac 10.7 and later.
Supported Mobile Devices:
Apple iOS®: 4.x, 5.x, 6.x, 7.x.
Android™: 2.3x, 3.x, 4.x
WheelHouse Solutions provides Single Sign On (SSO) throughout the St. Louis metro area. We invite you to use the form, on the right side of this page, to request additional information about Single Sign On (SSO). We'll work with you to develop a solution that will meet your needs now, as well as provide for future growth and flexibility.
Request Information on 6 Months Free SSO & MFA
(This is a Limited Time Offer so act quickly)