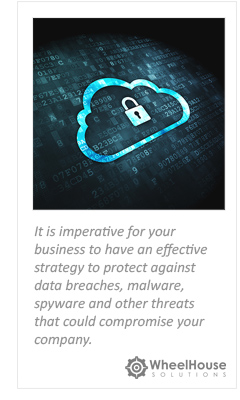 As cyber-attacks become more frequent and severe, they present substantial risks to businesses globally. To protect your company from data breaches, malware, spyware, and other evolving threats that can jeopardize your operations, it is vital to establish and execute an efficient cyber security strategy. Given the pivotal role of technology in most businesses, safeguarding your IT systems takes precedence, making investments in cyber security a critical priority.
At WheelHouse Solutions, we are experts in protecting your business from the constantly evolving landscape of cyber security threats. Our extensive array of cyber security solutions is specifically designed to safeguard your sensitive company information, as well as the personal data of your employees and customers. By collaborating with industry-leading providers, we deliver state-of-the-art security products, guaranteeing that your organization remains well-protected. Our mission is to take proactive measures to detect and stop threats before they have any impact on your business.
Our cyber security solutions encompass a wide array of measures, including the following:
Malware and Virus Protection: shield your systems from malicious software and viruses that can compromise your data and network integrity.
Ransomware Protection: safeguard against ransomware attacks that encrypt your files and demand payment for their release.
Email Security: enhance your email protection to identify and block phishing attempts, malicious attachments, and spam.
Firewalls: deploy robust firewalls to monitor and control incoming and outgoing network traffic, preventing unauthorized access.
Intrusion Prevention Systems: implement advanced systems that detect and prevent unauthorized access attempts and suspicious activities.
Router Security: secure your network routers to prevent unauthorized access and protect sensitive information.
VPN Security Clients: establish secure connections for remote employees through virtual private networks (VPNs).
Web Security: protect your organization from web-based threats, such as malicious websites and drive-by downloads.
Data Security: implement encryption, access controls, and backup solutions to safeguard your critical business data.
DNS Security: strengthen your domain name system (DNS) infrastructure to prevent DNS attacks and ensure secure browsing.
Implementing a diverse array of security measures throughout your organization is essential to maintain protection against rapidly evolving modern threats. With WheelHouse Solutions, you can depend on our comprehensive suite of solutions to effectively mitigate all security risks, ensuring the safety of your business from online attacks. Recognizing that IT security requires tailored approaches, we strive to implement an optimal combination of safeguards within your IT environment, customized to your organization. By doing so, we strengthen its overall security, providing you with the peace of mind and confidence that comes with our expertise in keeping your business operations secure.
It's imperative to deploy security measures across your enterprise to protect from modern threats that change rapidly. WheelHouse Solutions can protect your business with a suite of solutions, helping you mitigate all security threats and keep your business safe from online attacks. And, while there's no silver bullet when it comes to IT security, the more safeguards we can implement in an IT environment, the more secure it will be and the more our customers appreciate out IT expertise.