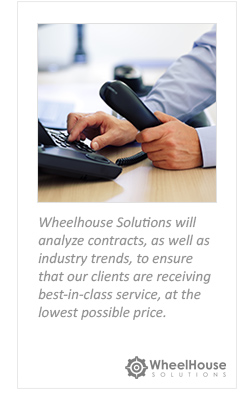 WheelHouse solutions can work with your company to determine which telecommunications products and services can best meet your needs. Our goal, with every client, is to improve the value of services provided, while reducing costs. During our proprietary audit process, we pay close attention to your bottom line. We also save our customers time and money by implementing all changes and dealing with the vendors, on their behalf. We'll analyze contracts, as well as industry trends, to ensure that our clients are receiving best-in-class service, at the lowest possible price.
WheelHouse Solutions Can Save You Money
Often, businesses don't have the expertise or time to manage complex telecom strategies. WheelHouse Solutions has extensive experience, with all types of telecommunications solutions. We can assess your current needs and suggest a solution that will be reliable and cost-effective. Whether you're considering purchasing a new telecommunications system, or simply want an audit of your telecom bills, to reduce your costs, we have the experience to assist you.
Technology Is Our Business
Regardless of your company services – voice, data, video, cellular or wireless, WheelHouse can assess the situation and recommend cost-saving alternatives for our clients. We can then plan, design and implement a reliable solution that provides increased benefits.
Experience Matters
WheelHouse has the experience to guide you through all of your telecommunications decisions. With all of the different types of services available – cloud computing, call centers, wireless and IP telephony, just to name a few, businesses need help determining the best choice for their company. Telecommunications solutions are never a one-size-fits-all proposition. We will evaluate how your organization is run, how you use telecommunications and make sound recommendations.
WheelHouse Solutions provides telecom consulting throughout the St. Louis metro area. We invite you to use the form, on the right side of this page, to request additional information about our telecom consulting services. We'll work with you to develop a solution that will meet your needs now, as well as provide for future growth and flexibility.