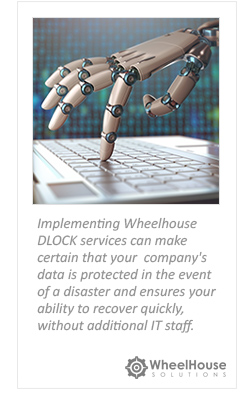 Cloud backup, also referred to as online backup and recovery, is a protective approach where data is securely transferred to an offsite storage location to ensure its preservation in case of a disaster or equipment malfunction. These storage systems are provided by third-party cloud service providers and operate on a subscription basis, with fees determined by factors such as the number of users, storage capacity, and data access frequency. By implementing Cloud Backup (known as DLOCK), your company can ensure the safeguarding of its data in emergencies and enable swift recovery without the requirement of extra IT personnel.
How Cloud Backup Works
Cloud backup services are scheduled to operate at specific intervals to provide the highest level of protection against data loss. For example, a customer may choose to back up their data daily. The application will collect, compress, encrypt, and transfer their data to the offsite cloud backup server every 24 hours. To optimize time and bandwidth usage, the backup process may focus only on the changes made to the data since the last backup. This approach enhances efficiency and reduces the time and resources required for the backup.
What Options Does Cloud Backup Provide?
Cloud backup offers flexible configurations to meet the unique requirements of your business.
Full Backups

Full backups involve copying the entire dataset every time a backup is initiated, ensuring the utmost protection. Due to the substantial amount of data that many organizations possess, performing full backups frequently can be time-consuming.
Incremental Backups

Incremental backups exclusively back up the data that has changed since the last backup. While this approach saves time, it can be more challenging and time-consuming to restore the complete data set.
Differential Backups

Differential backups share similarities with incremental backups as they only include altered data. However, this backup type also backs up data that has been updated since the last full backup, rather than just incremental changes. Consequently, restoring the complete data set becomes less complex and time-consuming when utilizing differential backups.
A key advantage of cloud backup restorations is their versatility, enabling them to be executed from any computer with internet access. For example, an administrator can recover the data and restore it to another remote server if they cannot access their primary data center.
How Wheelhouse Solutions Can Help
Our comprehensive cloud backup service, known as DLOCK, provides everything necessary to safeguard your company's data by securely backing it up to the cloud. The software and equipment included in our services are designed to protect your valuable data. In the unfortunate event of a catastrophic failure, the same software can be utilized to restore your company's data effectively. Whether you prefer a file-by-file restoration or a full restore, DLOCK offers the flexibility to meet your specific recovery needs. With our reliable cloud backup services, your company's data remains secure and recoverable, ensuring peace of mind for your business operations.
DLOCK Cloud Backup Services include:
Secure off-site backup storage
Hosted self-service management portal
Full image and file-level backups
Protection of data on 20+ platforms, including virtual, physical, and cloud-based servers, endpoints, and mobile devices
Initial seeding and large-scale recovery with physical shipping
Customizable policies with backup schedule/frequency and retention rules
Customizable compression levels for backed up data
AES-256 encryption of backups in transit and at rest
Wide range of recovery options: entire machine, ESXi configuration, single files and folders, databases, Office365 mailboxes, etc.
Recovery to dissimilar hardware, including bare-metal, physical, virtual, or cloud environments
Proactive anti-ransomware protection for Windows machines
Additional Features & Benefits
Protection for Any Workload
Simplify your data protection endeavors with a single solution. Our comprehensive support extends to Windows and Linux servers and VMs, six major hypervisors, PCs, Macs, iOS and Android mobile devices, Office 365 mailboxes, and websites. With our versatile capabilities, you can effectively safeguard data across a wide range of platforms, ensuring comprehensive protection for your valuable information.
Unmatched Storage Options
Adhere to your business requirements and industry regulations by selecting the storage solution that best suits your needs. Choose from a range of options, including on-premises storage, secure private clouds, public clouds, or local storage providers to store your backups. This flexibility allows you to align your data storage strategy with your specific compliance needs, ensuring that your backups are securely stored and readily accessible when required.
Seamless Deployment
Eliminate the complexities of implementation. DLOCK offers a hassle-free, turnkey solution for Cloud Backup. With minimal requirements or special prerequisites, our all-in-one solution provides a seamless experience for customers. The installation process is straightforward, requiring only a lightweight backup agent. Experience a streamlined setup and enjoy the convenience of DLOCK as a comprehensive Cloud Backup solution.
Simple Pricing with No Upfront Costs
Say goodbye to costly investments in equipment and backup software. DLOCK offers a cost-effective solution where you can protect your systems and data at a predictable monthly rate. By opting for DLOCK, you can enjoy the benefits of comprehensive protection for your valuable assets without the burden of upfront expenses or ongoing software licensing costs. Experience peace of mind knowing that your systems and data are safeguarded at an affordable and manageable price.
Customizable Backup Scheduling
Conduct backups manually or automatically based on your preferred schedule and frequency. Whether you prefer monthly, weekly, daily, hourly, or even every 10 minutes backups, DLOCK provides the flexibility to meet your specific requirements. You have the freedom to choose the backup intervals that best align with your data protection strategy. This customizable approach ensures that your data is regularly backed up according to your desired schedule, providing you with peace of mind and optimal control over your backup processes.
Flexible Retention Policies
Establish a backup retention policy and apply it to individual devices or multiple machines. With DLOCK, you have the flexibility to customize your backup retention settings according to your specific needs. You can choose to store backups indefinitely, limit the number of backups per machine, or define a specific duration for retaining backup files. This level of control allows you to effectively manage your backup storage, ensuring that you retain backups for the necessary duration while optimizing storage space. Tailor your backup retention policy to align with your business requirements and data management practices.
Quick Recovery to Any Hardware
Efficiently restore Windows and Linux systems to identical, similar, or different hardware configurations, encompassing bare-metal, physical, virtual, or cloud environments, utilizing the powerful built-in DLOCK Universal Restore technology. With this advanced feature, you can quickly recover your systems, regardless of the hardware setup, ensuring seamless restoration of your operations. Whether you need to migrate to new hardware or recover from a disaster, DLOCK Universal Restore enables swift and reliable system recovery, providing flexibility and peace of mind for your business.
Self-service Granular Recovery
Utilize the web console to easily search for specific documents, tables, emails, and more. With DLOCK, you can retrieve lost data directly, without the need to restore an entire system. This convenient feature allows you to quickly locate and restore the specific data you need, saving time and resources. Whether you're looking for a particular file or email, the web console provides a user-friendly interface to search and recover the desired information, streamlining the data recovery process and minimizing disruptions to your workflow.
Instant Systems Restore
Attain industry-leading Recovery Time Objectives (RTOs) by instantly launching any Windows or Linux system, whether physical or virtual, directly from the backup storage on your existing Microsoft Hyper-V or VMware vSphere ESXi host. This powerful capability eliminates the need for data movement, enabling swift recovery processes. With DLOCK, you can initiate system operations promptly, leveraging the backup storage as a source, resulting in minimal downtime and maximizing operational efficiency. Benefit from seamless and efficient recovery procedures, achieving remarkable RTOs without the hassle of data transfers.
AI-based Anti-ransomware Protection
Mitigate system downtime caused by ransomware using our innovative and proactive technology, which effectively blocks 99.99 percent of attacks. This unique defense mechanism acts preemptively to prevent ransomware from compromising your systems. In the rare event that an attack does occur, any files impacted prior to the intervention are automatically restored. With this robust ransomware protection in place, you can ensure the continuity of your operations and minimize the disruption caused by malicious attacks. Trust in our advanced technology to safeguard your systems and swiftly restore any affected files, maintaining the integrity and availability of your data.
Proven Encryption and Password Protection
Preserve regulatory compliance by implementing AES-256 data encryption to safeguard your backups, ensuring exclusive access to the data by authorized personnel. With this robust encryption method, your backups remain protected against unauthorized access and maintain the confidentiality of sensitive information. By employing AES-256 encryption, you can confidently adhere to regulatory requirements and industry standards, maintaining the integrity and privacy of your backup data. Rest assured that only you and authorized individuals have the ability to access and decrypt the data, bolstering the security of your backup storage.
If you would like more information about Cloud Backup & Storage, please fill out the form on this page and someone will get back with you promptly or call us at 314-492-2506 to speak with someone immediately.