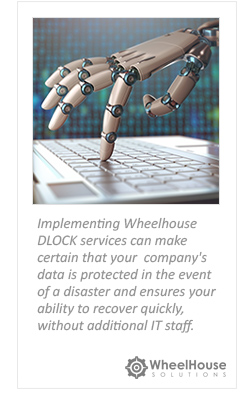 Online backup and recovery, also known as cloud backup, is a strategy wherein data is sent, securely to a secondary offsite storage for preservation, in the event of a disaster or equipment failure. These storage systems are hosted by a third party cloud services provider and are subscription-based, with fees dependent on the number of users, storage space and the number of times the data is accessed. Implementing Cloud Backup (DLOCK) can make certain that your company's data is protected in the event of a disaster and ensures your ability to recover quickly, without the need for additional IT staff.
How Cloud Backup Works
Cloud backup services are scheduled to run at predetermined times, in order to ensure maximum protection against data loss. For example, a customer may wish to backup their data daily so, every 24 hours, the application will collect, compress, encrypt and transfer their data to the offsite cloud backup server. To reduce the time and the bandwidth involved, and for efficiency, the backup may only consist of changes to the data since it was last backed up to the cloud.
What Options Does Cloud Backup Provide?
Cloud backup can be configured to meet the needs of each individual business. The following options are available:
Full Backups
Full backups will copy the entire dataset every time a backup is initiated, providing the highest level of protection. These backups can be time consuming, however, as many organizations have too much data to do a full backup on a frequent basis.
Incremental Backups
Incremental backups only backup the data that has changed since the last backup. While this method saves time, it can be more difficult and time consuming to do a complete restore should the need ever arise, if you are using this backup method.
Differential Backups
Differential backups are very similar to Incremental backups because they only contain data that has been altered. This type of backup, however, also backs up data that has been updated since the last full back up, not incremental backups, making it less complicated and time consuming to restore the complete data set, should the need arise.
A strategic feature of cloud backup restorations is that they can be performed from any type of computer from anywhere the administrator has access to the internet. For example, an administrator could recover their data and restore it to another remote server, if they do not have access to their primary data center.
How WheelHouse Solutions Can Help
Our cloud backup services (DLOCK) include all of the software and equipment needed in order to protect your company's data by backing up to the cloud. The same software can be used to restore your company's data in the event of a catastrophic failure. Restorations can be built on a file-by-file basis or DLOCK can be used to do a full restore of your company's data.
DLOCK Cloud Backup Services include:
Secure off-site backup storage
Hosted self-service management portal
Full image and file-level backups
Protection of data on 20+ platforms, including virtual, physical, and cloud-based servers, endpoints, and mobile devices
Initial seeding and large-scale recovery with physical shipping
Customizable policies with backup schedule/frequency and retention rules
Customizable compression levels for data being backed up
AES-256 encryption of backups in transit and at rest
Wide range of recovery options: entire machine, ESXi configuration, single files and folders, databases, Office365 mailboxes, etc.
Recovery to dissimilar hardware, including bare-metal, physical, virtual, or cloud environments
Proactive anti-ransomware protection for Windows machines
Additional Features & Benefits
Protection for any workload
Streamline your data protection efforts using just one solution. We support Windows and Linux servers and VMs, six major hypervisors, PCs, Macs, iOS, and Android mobile devices, Office 365 mailboxes, and websites.
Unmatched storage options
Comply with business requirements and industry regulations by choosing the right storage for your needs. Backups can be stored on premises, in a secure private cloud, public clouds, or a local storage provider.
Seamless deployment
Forget about implementation hassles. DLOCK is a turnkey, all-in-one Cloud Backup solution, with almost no requirements or special prerequisites for customers. Only a lightweight backup agent is needed for installation.
Simple pricing with no upfront costs
Eliminate expensive equipment and backup software purchases. With DLOCK, you can protect your systems and data at an affordable, predictable, monthly rate.
Customizable backup scheduling
Perform manual or automatic backups according to the desired schedule and frequency – monthly, weekly, daily, hourly, or even every 10 minutes.
Flexible retention policies
Set up a backup retention policy and apply it to a specific device or a number of machines. You can store backups indefinitely, limit the number of backups per machine, or specify how long to keep backup files.
Quick recovery to any hardware
Recover Windows and Linux systems swiftly to the same, similar, or dissimilar hardware, including bare-metal, physical, virtual, or cloud environments using built-in DLOCK Universal Restore technology.
Self-service granular recovery
Use the web console to search for specific documents, tables, emails, etc., and restore the lost data itself without having to recover an entire system.
Instant systems restore
Achieve best-in-industry RTOs by starting any Windows or Linux system (physically or virtually) directly from the backup storage on your existing Microsoft Hyper-V or VMware vSphere ESXi host – without moving data.
AI-based anti-ransomware protection
Prevent system downtime caused by ransomware with a unique, proactive technology that stops 99.99 percent of attacks. Any files impacted before an attack was deflected are automatically restored.
Proven encryption and password protection
Maintain regulatory compliance by protecting your backups with AES-256 data encryption, so only you can access the data.
If you would like more information about Cloud Backup & Storage, please fill out the form on this page and someone will get back with you promptly or call us at 314-492-2506 to speak with someone immediately.