Allworx Business Telephone Systems
WheelHouse Solutions provides Allworx Business Telephone Systems to businesses throughout the United States.
LEARN MORE
Telecommunications systems can often be complicated – simplify your business with an Allworx VoIP system. WheelHouse Solutions, serving the entire St. Louis, Missouri area, has partnered with Allworx, one of the leading names in telecommunications, to offer a versatile telephone system that can scale up or down with your organization.
WheelHouse carries a comprehensive selection of Allworx VoIP systems to fit your needs, including:
Allworx Verge 9312 Business Telephone System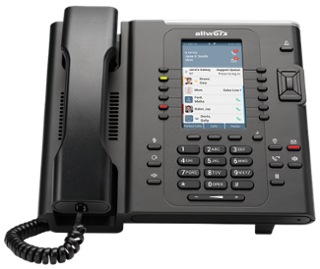 12 self-labeling programmable buttons.
Contextual soft keys.
4.3″ color display.
Bluetooth wireless support.
Full duplex speaker phone.
HD audio.
Gigabit Ethernet.
Integrated network switch.
Power over Ethernet (PoE).
Verge 9318Ex Expander support.
Allworx Verge 9308 Business Telephone System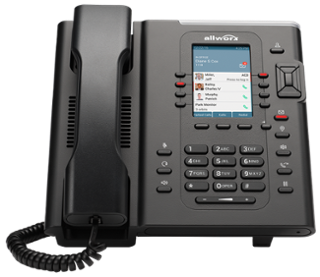 8 self-labeling programmable buttons.
Contextual soft keys.
3.5″ color display.
Full duplex speaker phone.
HD audio.
Gigabit Ethernet.
Integrated network switch.
Power over Ethernet (PoE).
Allworx Verge 9318Ex Expander Business Telephone System

18 self-labeling programmable buttons.
4.3″ color display.
Add up to three units to a Verge 9312 IP phone.
Isn't it time your business phone is available whenever, wherever you need it?
Whether your employees are in a single location or multiple sites, desk-bound or road-bound, take inbound calls or make outbound calls, Allworx can create a perfect fit.
Mobility
Always be reachable by extending the Allworx IP phone to your iOS or Android devices.
Desktop Integration
Boost productivity with PC-based call management and integration with third-party apps.
Call Center
Intelligently distribute and manage incoming calls for up to 10 defined queues.
Multi-Site Support
Improve employee collaboration and reduce telecom costs by unifying up to 100 locations.
Analytics
Track call activity metrics that drive your business performance.
Secure (HTTPS) Web Administration
With Allworx, you don't need to be a rocket scientist to manage the system.
Manage Allworx systems from anywhere via secure web access.
Configure system and user settings.
Download and install software keys.
Assign administrative privileges using four role-based user access levels.
My Allworx Manager
Give all your employees an easy way to learn about their Allworx phone system.
Easily access call details, directory, phone features, and many more.
Schedule, modify, and monitor conference calls
See eligible advanced software license keys for your handset.
For supervisors, set up agents and queues, and access basic queue statistics.
Voicemail-to-Email

Get voicemail messages as WAV file attachments right from your inbox.
Set up to receive SMS text alerts when new voicemails arrive.
For important shared voicemail boxes, set up an automatic escalation path to notify select users via text or email until the voicemail messages are retrieved.
Allworx VOIP Features
Allworx VoIP Telephone Systems have a significant number of features that small businesses need. And unlike service-based features, the Allworx Telephone System includes many standard features at no additional cost.
| | |
| --- | --- |
| Feature | Description |
| Auto Attendants | Greet callers with recorded messages that offer touchtone choices and connect callers to extensions. It's like having your own receptionist 24 hours a day. There are 9 levels of auto attendant, so you can offer multiple options for callers. |
| Voicemail | Built-in voicemail saves you paying monthly for phone company voicemail, and it's centralized, so you don't have to check different mailboxes for cell and office phones. You can also have your Allworx notify you by email and include the voicemail in an audio file. |
| Remote Extensions | Any phone, anywhere, can be added as an extension of the system. Integrate mobile and teleworkers, stay connected anywhere, and give your customers a single number to contact you. |
| External IP Extensions* | Plug an IP phone into your network at home or any other location and it functions just like the extensions in the office. Great for teleworkers or for keeping connected to your business when you're at home. |
| Expandable | From 1 to 150 users per location, Allworx grows when you grow. |
| Phone Freedom | Works with our proprietary Allworx phones, standard analog telephones and selected IP phones. Get the phones you want or save money by using your existing phones. |
| Dial-By-Name Directory | Callers can select an extension by dialing the name of the person they want to reach. |
| Voicemail to E-mail | Receive e-mail notification of new voicemail, with or without the message attached as an audio file. |
| Call Cascade | If your extension is busy, not answered, screened, or on do not disturb, calls can ring a sequence of other extensions or ring groups. With call cascade, Allworx can make several attempts to locate you before sending the caller to voicemail. |
| Ring Groups | Send calls to all local extensions in a department. Ring more than one extension simultaneously and use different ring patterns to identify types of calls. |
| Call Queue | If an extension or ring group is busy, the caller gets the option to leave a message, remain on hold, or return to the auto attendant. At your extension, you get notified of queued inbound calls. |
| Automatic Route Selection | Automatically send certain kinds of outgoing calls through specific phone lines. All long-distance calls, for example, can use a specific line or group of lines. |
| Toll Restriction | Prevent unauthorized long-distance calling from any local extension. |
| Call Detail Record Logging | Assign accounts to calls and track length of calls for billing of professional services. |
| Line Appearance | See which lines are available or in use, right on your Allworx IP set. Customize which lines to view for each extension. Exclusively available with Allworx-brand of telephones. |
| Multiple Language Prompts | More than one language in your office? Each extension can have its prompts in English, Spanish |
| Call Forward | Send calls to any other local or remote extension, to a ring group, or voice mailbox. |
| Call Conference | Connect up to 3 parties on one phone call. |
| Call Back/Call Bridge | Access your office long distance savings plan from anywhere around the world. Lets your long distance savings plan travel with you. |
| Mode Scheduling | Handle incoming calls differently at different times of the day, days of the week and on holidays. Allworx can professionally handle calls during and after regular business hours. |
| Call Hold/Transfer/Park | Hold calls. Transfer calls to local or remote extensions, ring groups, or voicemail. |
| Call Screening | Records a caller's name, then plays it to the recipient, who can accept or redirect the call. |
| Intercom | Place calls from one extension to another. |
| Call Pickup | Pick up calls from other extensions. |
| Distinctive Ring | You can have different kinds of calls handled in different ways. Allworx supports telephone company distinctive ring features. |
| Public Announcement | Allworx can be connected to a PA system, or announcements can be made through the speakers of selected Allworx telephones. |
| Remote Management | Change configuration of the system remotely. |
| Free Software Upgrades | Upgrade your Allworx configuration software for free! |
If you would like additional information about the Allworx VoIP Business Phone System, we invite you to fill out the form on this page and someone will get back with you regarding your telephone system needs.