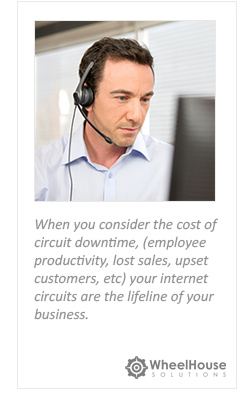 Cost Effective Circuit Monitoring and Resolution
With an ever-increasing reliance on cloud services and off-site data centers, the significance of your internet circuit for your business expands tremendously. The exponential growth in your business's reliance on these circuits makes continuous monitoring and swift resolution of issues an absolute necessity. The consequences of circuit downtime magnify the pivotal role that your internet circuits play as the lifeline of your organization. Neglecting proactive monitoring and timely problem-solving poses a tangible threat to the success and stability of your business.
Peace of Mind
Circuit Secure™, a comprehensive solution designed by WheelHouse, offers end-to-end monitoring and resolution services for a fixed rate. Our team will diligently monitor your circuit, proactively engage with your internet provider, troubleshoot any issues, and work tirelessly until your circuit is restored to full functionality. By entrusting us with Circuit Secure™, you can experience peace of mind and ensure that your business remains as productive as possible.
Ground Up
Circuit Secure™ has been meticulously crafted, with over 50 years of expertise, to offer our clients the finest monitoring solution on the market. We understand the significance of your circuit and the paramount need for unwavering reliability to enable your business to function at peak performance.
Circuit Secure™ Options
We Monitor, Self Fix™
Enhance your circuit by integrating our advanced monitoring tool. In the event of an alert, your team is promptly notified, empowering them to take ownership of the issue and work towards its resolution.
We Monitor, We Fix™
When an alert is triggered, our dedicated team is immediately notified. Our Network Operations Center (NOC) takes ownership of the issue on your behalf and works until a satisfactory resolution is achieved.
Monitoring Frequency
Gold – every 15 minutes
Platinum – every 5 minutes
Pricing
Pricing options are flexible and depend on factors such as the number of circuits, chosen product options as mentioned earlier, and the desired monitoring time frames. We offer month-to-month contracts to ensure that you have the freedom and peace of mind to engage with our services without long-term commitments.
Benefits of Circuit Secure
World-class monitoring for your business internet circuits
Off-load monitoring so your IT team can focus on your business
Month-to-month contracts
Fixed pricing options based on monitoring frequency, number of circuits, and ownership of resolution
Other WheelHouse offerings which work with Circuit Secure™
Desktop/Server Monitoring
IT Help Desk
SD-WAN Implementation and Monitoring
Headquartered in St. Louis, Missouri, WheelHouse Solutions offers Network Monitoring Services to businesses in the metro area. We'll work with you to develop a solution that will meet your needs now, as well as provide for future growth and flexibility. For more information about network monitoring, please complete the form on this page, and one of our representatives will get back to you.