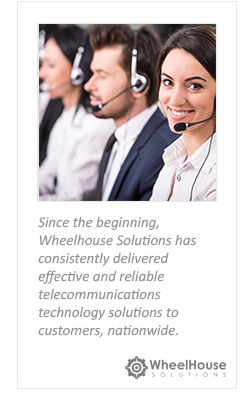 Securing the perfect partner for your organization's new telecommunications system or data network is paramount to achieving success. WheelHouse Solutions takes charge of the entire process, working closely with you to ensure that your custom-designed solution meets your requirements and provides the highest level of value. With a team of seasoned professionals and extensive industry experience, WheelHouse Solutions collaborates with clients across the country. Our deep expertise and wealth of knowledge are matched only by the integrity and trust we foster in our customer relationships.
Comprehensive, Seamless Telecommunications Solutions
Throughout its history, WheelHouse Solutions has maintained a steadfast record of providing dependable and efficient telecommunications technology solutions to customers across the nation. Regardless of whether you have a single location or multiple sites, we possess the expertise to deliver tangible outcomes through a comprehensive and seamlessly integrated telecommunications solution. Our approach enables our clients to completely revamp their current data and voice system infrastructure while minimizing any potential escalation in their monthly telecom and data expenses.
Our Staff is Well-Trained and Focused
Companies consistently choose WheelHouse Solutions as their trusted partner for telecommunications solutions primarily due to our exceptional team. Our people are highly experienced, extensively trained, and deeply committed to customer satisfaction. Leveraging our collective expertise and extensive background in the voice, data, and internet services industry, we possess the ability to swiftly pinpoint technology solutions that will significantly transform your business.
Customer satisfaction is at the core of our values at WheelHouse Solutions. Our utmost dedication lies in providing your company with the technological solutions essential for achieving success and assisting you in seamlessly integrating that technology into your daily operations. Our unwavering commitment extends to ensuring the long-term prosperity of every client. Rest assured, you can rely on our steadfast presence, both now and in the future, as a trusted partner that will always be there for you.
We Help Our Customers Make the Best Possible Decisions on Technology
With the aid of telecommunications technology, companies can expand their customer reach while optimizing resources and minimizing manpower requirements. At WheelHouse Solutions, we believe that technology should enhance business operations and productivity rather than cause disruptions or strain cash flow. We assist our clients in making informed and advantageous choices concerning IP phone systems, data network equipment (routers, switches, content filtering, Wi-Fi APs, and firewalls), internet and data network providers, and local phone service. Our goal is to help businesses leverage technology for their benefit and make the most effective decisions in these areas.
Telecom Partners
Contact us today and discover how we can serve you so that you may be able to better serve your customers.