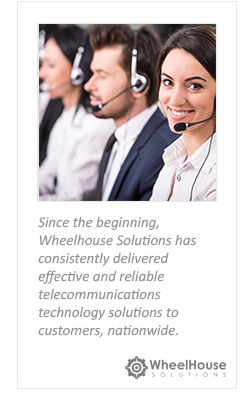 Finding the right partner for your new telecommunications system or data network is critical to your organization's success. WheelHouse Solutions executes, from start to finish, and stands with you to ensure your design-specific solution fits your needs and delivers maximum value. WheelHouse Solutions and its expert staff have many years of industry knowledge, working hand-in-hand with clients, nationwide. Our experience and expertise run deep, second only to the integrity and trust we demonstrate in our customer relationships.
Comprehensive, Seamless Telecommunications Solutions
Since the beginning, WheelHouse Solutions has consistently delivered effective and reliable telecommunications technology solutions to customers, nationwide. Whether you have one location, or many, we can help provide real results with a comprehensive, seamless telecommunications solution. Our typical clients are able to completely refresh their existing data and voice system infrastructure with little to no increase in their monthly telecom/data expenses.
Our Staff is Well-Trained & Focused
The major reason companies continue to rely on WheelHouse Solutions as a trusted telecommunications solutions partner is our people. We are experienced, well-trained and customer-focused. With our combined experience and rich history in the voice, data and internet services business, we can quickly identify technology solutions which will have a dramatic impact on your business.
At WheelHouse Solutions, we love to serve our customers. Our primary commitment is to deliver the technology solutions your company needs for success, and to help you integrate that technology into your daily operations. We are committed to the long term success of each and every client. You can count on us to be here for you now and in the future.
We Help Our Customers Make the Best Possible Decisions on Technology
Telecommunications technology empowers firms to reach more customers with fewer resources and manpower. WheelHouse Solutions believes that technology is meant to serve the business and enable productivity, not to disrupt operations and cash flow. WheelHouse helps its clients make the best possible decisions regarding IP Phone Systems, Data Network Equipment (including routers, switches, Content Filtering, Wifi AP's, and firewalls), Internet & Data Network Carriers, and local phone service.
Telecom Partners
Contact us today and discover how we can serve you so that you may be able to better serve your customers.