Advanced email security services effectively block unwanted emails before they can reach your corporate network. This innovative technology not only prevents spam but also detects address-sharing and identifies the sources of spam, providing concrete tools to safeguard the integrity of your employees' email addresses. In the event of a local server outage, automatic inbound email queuing ensures uninterrupted email continuity. Outbound email filtering safeguards your reputation and prevents the disruption of IP address blacklisting.
The WheelHouse Solutions defense strategy, depicted in the accompanying diagram, involves different stages. Our email security solution stands out with its wide-ranging capabilities and unparalleled configurability, meeting the diverse needs of email administrators and solution providers to address a comprehensive range of end user requirements. Each user's mail undergoes tests based on their specific configuration, ensuring targeted protection. Moreover, our architecture is designed to be extensible, allowing the seamless integration of new defenses as they become available or desired.
Volume-Based Email Protection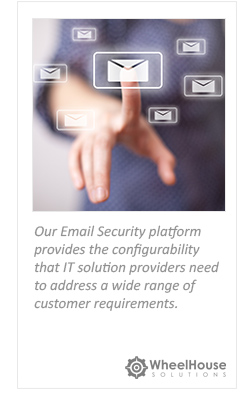 The primary focus of our initial defense layers is to identify and block inbound emails that are directed towards unidentified users within your domain. These types of attacks, known as directory harvesting attacks, specifically aim to gather information about valid email addresses. By proactively addressing this issue, we ensure the protection of your network from potential threats. Currently, 80-90% of all messages traveling over the Internet are sent to users that do not exist at the target domain.
Permitted Countries
Our system enhances content filtering by offering the capability to block messages originating from countries that are not explicitly approved for delivery at the enterprise and individual user levels. The determination of whether to accept or reject a message is based on the IP address of the sending server. While certain organizations may not have the need for this feature, it proves invaluable for many domestic businesses that prefer to avoid receiving emails originating from outside their home countries or geographic areas of operation. This functionality adds an extra layer of control and ensures that only desired emails from approved locations are allowed through.
Total Control Panel
As an added feature, our Email Security solution offers the automatic inclusion of a user-friendly control panel at the bottom of incoming messages, which is subsequently removed when forwarding or replying to the message. This control panel serves as a convenient and straightforward interface for users to engage with real time communication (RTC). For instance, users can effortlessly update their access preferences for a particular sender or address by clicking on the intuitive in-message links provided. Our control panel is accessible in multiple languages, including English, Spanish, French, German, Brazilian, Portuguese, Dutch, and Italian, ensuring a seamless experience for users across different regions.
Address-on-the-Fly™
Our Email Security solution simplifies the use of alternate aliases within a single inbox, empowering users to disclose purpose-specific addresses spontaneously in various contexts such as websites, discussion forums, print, or conversations. With Address-on-the-Fly™, there is no need for manual configuration in advance. These addresses are constructed by combining a root name with a user-selected suffix. For instance, Jane Doe may reveal the address jdoe.ebay@example.com when registering on eBay. In this case, the "ebay" suffix acts as an email PIN guaranteeing the successful delivery of emails to this specific address.
These addresses can be independently controlled through policies, effortlessly managed via interaction with the Total Control Panel. This way, legitimate users of the address can be safeguarded, even if the address is harvested and misused by a spammer. By providing this level of control and protection, our solution ensures the security and integrity of user-generated addresses.
Hosted Email Security
Multi-layered in-depth defense
Geographic and language-based filtering
Address-on-the-Fly™
In-message control panel
Identifies address sharing
Outbound Email Auditing
Outbound antivirus scanning
Open relay and zombie prevention
Avoids IP address blacklisting
Volume-based Protection
Defeats directory harvesting and denial-of-service attacks
Supports SMTP restrictions to prevent direct-to-IP attacks
Automatic Email Spooling
Automatic spooling of all incoming email for 14 days in the event of local power or email server outage
Optional email archiving, discovery, and recovery (see RADAR)
If you would like more information about Email Security, please fill out the form on this page and someone will get back with you promptly or call us at 314-492-2506 to speak with someone immediately.