What is SD-WAN?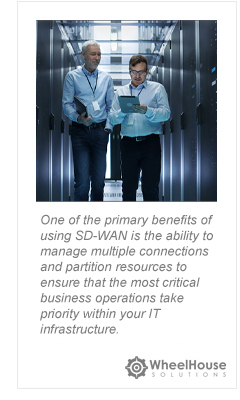 In recent years, computer networking has undergone notable transformations, but perhaps none have had a more profound impact than the emergence of Software-defined Wide Area Network (SD-WAN). SD-WAN allows businesses to leverage any combination of services – including MPLS, LTE and broadband internet services – to securely connect users to applications. This revolutionary technology is revolutionizing the way companies allocate their networking resources and optimize their IT infrastructure.
SD-WAN, depending on the provider and configuration, may incorporate virtual machines alongside existing routers and switches to manage policy, security, networking, and other functionalities.
One of the key advantages of implementing SD-WAN is the capability to effectively manage multiple connections and allocate resources to prioritize crucial business operations within IT infrastructure. For example, assign streaming services like online radio stations the lowest priority, guaranteeing that employees have sufficient bandwidth to conduct essential business tasks.
SD-WANs improve network performance by augmenting or replacing conventional branch routers at remote sites, effectively combating congestion commonly found in widely deployed networks. They offer several features such as centralized management for making network-wide changes across multiple sites with a single click, routing network traffic and applications through local sites, and simplified creation of routing policies. These capabilities streamline network operations and enhance overall network functionality.
Benefits of SD-WAN
More Flexibility
SD-WAN offers enhanced flexibility by allowing users to aggregate different types of circuits at any location, ensuring that critical business tasks are prioritized.
Increased Security
With SD-WAN, administrators can establish universal security functions that come with built-in encryption capabilities. This not only enhances overall security but also ensures that only authorized users can access data.
Reduced Bandwidth and Equipment Costs
SD-WAN effectively decreases bandwidth requirements while maintaining network security, uptime, and speed.
Easy Configuration and Simple Deployment
SD-WAN enables the deployment of unconfigured devices to remote locations, which, upon activation, automatically download their respective policy encryption, keys, and certificates based on access and device profiles.
Streamlined Management
SD-WAN simplifies the deployment of resources like firewalls and security updates to each location, streamlining management from a centralized location and eliminating the necessity of sending IT personnel on-site.
Aside from the security advantages SD-WANs offer a cost-effective alternative due to their reliability and efficiency. By utilizing streamlined data transfer methods from a central data center to multiple sites, companies can implement SD-WANs to achieve affordable connections with sufficient bandwidth across all locations. Furthermore, the versatility of SD-WANs in connecting multiple networks eliminates the necessity for using multiple systems simultaneously.
Since 2000, Wheelhouse Solutions has been providing IT products and services to customers throughout the St. Louis area and nationwide. If you would like more information on SD WAN and how it can benefit your company, please fill out the form on this page and one of our IT specialists will get back with you quickly.