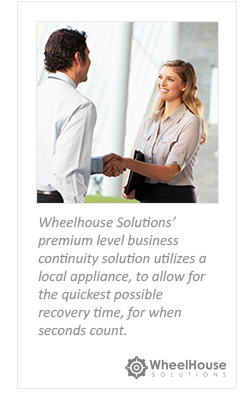 Your Business Depends on More than Just Your Data
The real value of ensuring business continuity lies in reducing the impact of severe data loss. While recovering individual files is possible, the ability to quickly restore an entire server or environment in the cloud within minutes is crucial for minimizing the consequences of such a catastrophic event.
WheelHouse Solutions provides two levels of business continuity services that offer comparable benefits. These include storing backup images locally, and in the cloud, as well as the capability to recreate your environment in the cloud in the event of a disastrous incident. Our premium-level business continuity solution takes it a step further by employing a local appliance, ensuring the fastest recovery time possible, especially in time-sensitive situations.
How Does the Backup and Disaster Recovery (BDR) Appliance Work?
The BDR software periodically creates image-based backups of the backed-up server at predetermined intervals (typically every 15 minutes).
The backup images are automatically stored locally on the on-site BDR appliance.
The backup images are then automatically transferred to the WheelHouse Solutions Storage Cloud.
Accidental File Deletion
In addition to complete image recovery, you can restore individual files, folders, as well as Exchange items like emails, attachments, and mailboxes, in moments.
Server Hardware Failure
The on-site BDR (Backup and Disaster Recovery) appliance is used to locally virtualize the affected servers, restoring full functionality to the business within minutes.
Catastrophic Fire or Flood
Continuity Cloud allows for the virtualization of servers within WheelHouse Solutions' cloud infrastructure, ensuring uninterrupted business operations even in the face of complete disasters.
Headquartered in St. Louis, Missouri, WheelHouse Solutions offers Business Continuity Planning services to businesses in the metro area. We'll work with you to develop a solution that will meet your needs now, as well as provide for future growth and flexibility. For more information about Business Continuity Planning, please complete the form on this page, and one of our representatives will get back to you.