It's not just your data, it's your business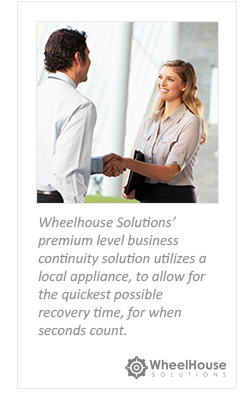 Business Continuity is all about reducing the impact of a catastrophic data loss. Sure, you can restore individual files, but the ability to restore an entire server, or environment, in the cloud, in minutes, so you can reduce the impact of a catastrophic loss – that's where the real value is.
WheelHouse Solutions has two levels of business continuity. Both share similar benefits, such as local and cloud storage of your backup images, and the ability to recreate your environment, in the cloud, in case of a catastrophic disaster. Our premium level business continuity solution utilizes a local appliance, to allow for the quickest possible recovery time, for when seconds count.
How Does the Backup and Disaster Recovery (BDR) Appliance Work?
The BDR software periodically creates image-based backups of the backed-up server at pre-configured intervals (Usually every 15 minutes)
The backup images are automatically backed up locally to the on-site BDR appliance.
The backup images are then transferred automatically to the WheelHouse Solutions Storage Cloud.
Accidental File Deletion
In addition to full images, recover individual files, folders, and Exchange items (emails, attachments, mailboxes) in moments.
Server Hardware Failure
The on-site BDR appliance is leveraged for on-site virtualization of the impacted servers, restoring full operation to the business within minutes.
Catastrophic Fire or Flood
Multiple recovery options exist, one such option is the WheelHouse Solutions Continuity Cloud, which allows servers to be virtualized, in WheelHouse Solutions's cloud, for continued business operations even in the face of total disasters.
WheelHouse Solutions provides Business Continuity Planning throughout the St. Louis metro area. We invite you to use the form, on the right side of this page, to request additional information about our Business Continuity Planning services. We'll work with you to develop a solution that will meet your needs now, as well as provide for future growth and flexibility.