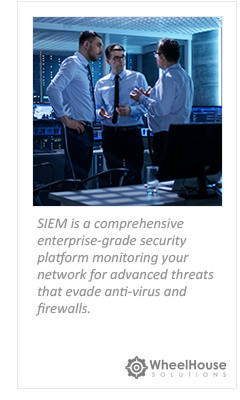 IT Security is essential for every business – to protect computer systems and networks from theft or damage to hardware, software, or electronic data. How can companies stay in ahead of the hackers who are looking to exploit your company and data? Disruption to your business from hackers could put you out of business. You need a strong threat management solution that delivers a powerful SIEM platform along with a SOC that is watching every log in your computer network. WheelHouse Solutions has a complete package to automate and help ensure your business is as secure as possible.
How Does it Work?
SIEM is a comprehensive enterprise-grade security platform monitoring your network for advanced threats that evade anti-virus and firewalls. The application has real-time alerting and incident response generating alerts and posts them on a central dashboard. These alerts are utilizing machine learning and other security tools to detect anomalies which arise.
Once these patterns reach a certain threshold, action is taken. The sensors can rapidly detect and automatically stop kill applications mutating threat where they start – on your endpoints. (servers, workstations, network devices). The application can also detect when users are downloading files which they are not authorized to. These actions are also instantly matched against known threats identified and cross-referenced and detected instantly within our platform.
These alerts are then reviewed by our SOC (Security Operations Center) which is manned 24/7/365 to review any alerts to ensure nothing is missed. Our team will then notify our customers of the action taken on their behalf to stop the threats and next steps if any needed.
Reports
All of our logs are indexed so you can run reports automated on your network. Due to many regulations required by law, our security platform provides over 1,000 reports which are related to security and compliance. These include summary and detailed reports for PCI DSS, HIPAA, GDPR, DOD, RMF and NIST 800-171 regulations frameworks. We review these reports regularly with management to ensure they are compliant.
Value and Intelligence
We provide significant value for our clients so they do not have to employ security analysts and a security operations center to watch their assets. Our solution is a fixed cost which allows management to reduce their risk and allow control and flexibility within their IT environment. We quickly detect issues and changes, so they are resolved instantly before they get out of control.
If you would like more information about how SIEM and SOC can lower your risk, please fill out the form on this page and someone will get back with you promptly or call us at 314-492-2506 to speak with someone immediately.
Contact Us
[sibwp_form id=1]