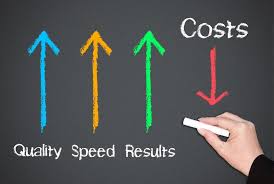 Technology has become an essential factor in almost every business operation and now business owners are looking for ways to reduce expenses in their IT departments, in order to achieve greater efficiency for less money.
To do that, as a business owner, the logical action would be to cut back on your IT costs, but it's essential to avoid sacrificing efficiency when reducing expenses. With that in mine, here are the top five tips and tricks to reduce expenses in your business without compromising its efficiency and/or destroying value:
If you're a small business owner, try to find alternatives to your traditional telephone service; if you're using a land-line or a regular cell phone, you can switch to VoIP service and virtual phone lines. There are many options available that provide provide great flexibility and excellent value for the money, not to mention a serious cost reduction when it comes to communications.
Use open source software. This is an excellent alternative to the commercial mainstream applications, especially if you're a small business. The software related costs may cripple your business, especially in its inception phase, and open source software is very attractive, because it's free.
Use cloud services, instead of investing lots of money in hardware/software, especially if you're a small business. Also, you should determine what you really need, the latest high-tech services is not always necessary and it may cost you an arm and a leg. And if you decide to perform an audit of your existing computers, you may find an answer about what's really necessary for your line of business, hence reducing your technology expenses.
You can try to negotiate with your existing IT contracts because IT services vendors desire to keep their clients happy and on board for as long as possible. Keep in mind that the competition in this area is pretty tight and you can take advantage on that. You can proactively ask for discounts, freebies, cost reductions or even negotiate a customized plan. In the end, it's important to ask if you want to get any advantages.
Reduce expenses with online business training. Being a small business owner, you can't afford to travel the world in order to expand your experience, to participate in live training /educational conferences and the like. But, in the Internet era, you can use online business training for you and your employees. There are lots of free online business training programs and you can use them from the comfort of your office or even at home. With these options available for ongoing training, the possibilities for you and your business are endless, and your costs related to training will be significantly reduced.
If your business is looking for Managed IT, Cloud Services, Consulting & Support Services, WheelHouse Solutions has a staff of experienced professionals to deliver outstanding results. We provide cost-efficient managed IT Services, backed by a professional IT Staff, with experience in multiple disciplines. Whether you're looking to augment your existing IT staff, or if your business wants to outsource all your IT services, we have a flexible solution to meet your needs. Feel free to contact us at 314-492-2506 or fill out the form on this page and someone will get back with you.