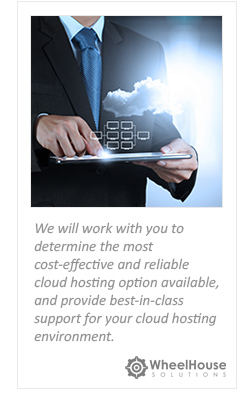 At WheelHouse Solutions, our Managed Cloud Hosting Services enable your IT team to focus on developing your website or exclusive applications, while our skilled IT professionals manage your cloud infrastructure. By entrusting us with the management of your cloud infrastructure, your IT employees can dedicate themselves to their core strengths and your business. Whether you aim to transition from an on-premises data center, improve the scalability of your existing IT infrastructure, or establish a cloud-based disaster recovery system, we can help. Our goal is to design a flexible and scalable cloud hosting solution that aligns with the unique requirements of your organization. Additionally, we can evaluate the cloud compatibility of your software portfolio and create a comprehensive cloud migration strategy in collaboration with your organization.
Exceptional Service
Recognizing the importance of your company's confidential data, we prioritize its safety and security in the cloud. We take complete responsibility for the performance, security, availability, and cost-effectiveness of your cloud hosting. Working closely with you, we determine the most cost-efficient and reliable cloud hosting solution, and provide top-notch support for your cloud hosting environment, ensuring the best possible outcomes.
Managed AWS Cloud Hosting
With extensive expertise in managing, optimizing, and migrating AWS cloud environments for businesses of all sizes, WheelHouse Solutions simplifies the process of transitioning to the cloud. Whether you are considering migrating a few applications, planning a comprehensive AWS migration involving thousands of components, exploring disaster recovery options, or assessing the cloud portability of your proprietary applications, our dedicated cloud services team is ready to assist you. We will collaborate closely with you to develop a comprehensive AWS migration strategy tailored to your specific requirements and objectives.
Managed Azure Cloud Hosting
Enjoy the benefits of Microsoft's Azure Cloud without the burden of significant upfront expenses or the responsibility of overseeing a virtual infrastructure. Azure offers extensive support for diverse devices, databases, frameworks, operating systems, and languages, along with integrated tools that enable developers to enhance productivity, without requiring extensive DevOps or Windows expertise. The result is a significantly reduced software development cycle, fostering increased creativity and flexibility.
Headquartered in St. Louis, Missouri, WheelHouse Solutions offers Cloud Hosting Services throughout the metro area. Our team will collaborate with you to develop a tailored solution that meets your current requirements while also accommodating future expansion and flexibility. For more information about Cloud Hosting, please complete the form on this page, and one of our representatives will get back to you.