Our Growth Game Is Strong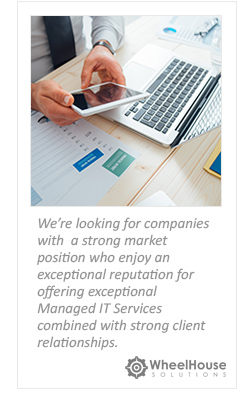 WheelHouse Solutions is a Managed IT Services Provider that has the skilled leadership and financial resources to help businesses reach their full potential. Our firm has decided to grow our managed IT business by acquiring companies within the same industry. Our primary goal is to increase our existing market position in the IT space, as well as to invest in new markets and technology areas where we feel there is an opportunity for success. We purchase companies when we identify potential for expansion and development in strategic markets that complement our core business goals.
We're looking for companies with proven earning power and a strong market position within their geographic service area. These companies enjoy a reputation for offering exceptional Managed IT Services combined with strong client relationships.
To determine if your business is a good fit for our acquisition program, we'll review:
Your experience and staff, because we know that people are our most important asset
Your annual revenue and diversification, including how much of your revenue comes from hardware versus services, and how much revenue is recurring
Your financial sustainability, so we can determine whether it is a good investment
Your customer base and what vertical markets you serve, and the products and services they purchase
Offer to You As An Owner
WheelHouse Solutions is a growing company with experience, capital, a rich contact network and an unmatched entrepreneurial drive. As a new owner, WheelHouse will provide you with the tools you need to be successful, in addition to an unparalleled marketing staff to maximize profitability in your market. WheelHouse Solutions will:
Develop the organization based on the existing staff
Provide marketing and financial muscle for the development of new ideas
Provide unlimited opportunities for career advancement, based upon performance
Becoming part of the WheelHouse Solutions team comes with a multitude of benefits. We support a healthy work-life balance and we're always open to new ideas from our valued team members. As an employee of WheelHouse Solutions, you'll have daily opportunities to be challenged and to grow in a supportive environment that values your contribution, feedback and hard work.
Geographic Requirements
At the present time, WheelHouse Solutions is only interested in acquiring companies in the following geographical markets:
St. Louis, Missouri
Kansas City, Missouri (& Kansas)
Dallas, Texas
Houston, Texas
Nashville, Tennessee
Phoenix, Arizona
Our Expansion Vision
Our business strategy involves 50% organic growth and 50% acquired or purchased growth. We focus on customer-focused Managed IT firms who will help us expand our technology services in our chosen markets. If you think your business is a good fit for acquisition, based upon our requirements, we invite you to fill out the form on the right side of this page to begin the review process. Someone from our organization will get back with you promptly.