What is Office 365 and is it right for your office??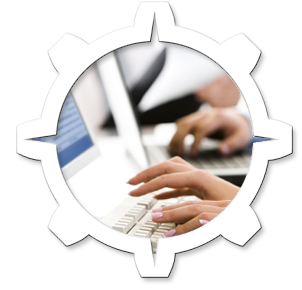 Office 365 is a cloud-based service hosted by Microsoft. It brings together the power of Office with business class email, document sharing, instant messaging and video conferencing, to give you instant access to the information you need to handle your business, across your devices – from PCs to smartphones and tablets.
Get the latest version of Office desktop applications, licensed as a subscription Per user, across 5 PCs or Macs, plus mobile devices allows you to stream any Office application while away from your devices.
Use Office on all your devices
Always have the latest version of Office installed on your computer, licensed by subscription. Office is now touch-friendly so it works great on mobile devices, too. Use Office on demand when away from your devices by signing into Office, with a browser and quickly stream an Office application, for a full-experience viewing and editing.
Connect instantly and meet effectively
See who's online, even on your phone, so you can send an instant message and get things done more quickly. Easy to set up and join online meetings with HD video, desktop sharing, and real-time note taking.
Frequently Asked Questions
Click the frequently asked questions below to learn more about Office 365.
Office 365. "Office 365" refers to subscription plans that include access to Office applications plus other productivity services that are enabled over the Internet (cloud services). Office 365 includes plans for use at home and for business. Office 365 plans for business include services such as Skype for Business web conferencing and Exchange Online hosted email for business, and additional online storage with OneDrive for Business.
Many Office 365 plans for business also include the desktop version of the latest Office applications, which users can install across multiple computers and devices. The fully installed applications include: Word, Excel, PowerPoint, OneNote, Outlook, Publisher, and Access. (Publisher and Access are available on PC only.) And you can install them across multiple devices, including PCs, Macs, Android tablets, Android phones, iPad, and iPhone. When you have an active Office 365 subscription that includes the desktop version of Office, you always have the most up-to-date version of the applications.
The Office 365 plans that are online-only are a great choice for certain business needs, and they are designed to work with the latest version of Office, Office 2013, and Office 2011 for Mac. Previous versions of Office, such as Office 2010 and Office 2007, may work with Office 365 with reduced functionality.NOTE: This compatibility with Office does not include the Exchange Online Kiosk or Office 365 Enterprise K1 plans.
All Office 365 plans are paid for on a subscription basis, monthly or annually.
Microsoft Office. "Microsoft Office" is the name still used for their familiar productivity software. Office suites are available as a one-time purchase and include applications such as Word, Excel, and PowerPoint, which can be installed on only one PC or Mac. The applications are not automatically updated; to get the latest version, you can purchase the product again when the new version becomes available. The latest versions currently available for one-time purchase are Office 2016 for Windows and Office 2016 for Mac. These suites do not come with any of the cloud-based services included in Office 365.
In today's global and fast-moving world, you need the best technology that can help you differentiate yourself, stay ahead of the competitions, and be cost effective at the same time. Cloud-based services offer a great opportunity for you. But it is important to choose the right provider that offers business-ready services, familiar and rich tools, the level of security and privacy you need, and some kind of IT control if you want it.
Office 365 is designed to work with the latest version of Office, Office 2013, and Office 2011 for Mac. Previous versions of Office, such as Office 2010 and Office 2007, may work with Office 365 with reduced functionality.
If you have Office 2003 or an earlier version, you will need to update to a newer version of Office in order to use Office 365; or you can subscribe to one of the many Office 365 plans that include the latest version of Office. In addition to getting the latest version of Office as part of your subscription, you will also get automatic updates, so your Office will always be up to date.
Internet access is required to install and activate all Office 365 plans and to manage your subscription account. Internet connectivity is also required to access Office 365 cloud productivity services, including email, conferencing, IT management, and other services.
Many Office 365 plans also include the desktop version of Office, for example, Office 365 Business Premium and Office 365 Enterprise E3. One of the benefits of having the desktop version of Office applications is that you can work offline and have the confidence that the next time you connect to the Internet all your work will automatically sync, so you never have to worry about your documents being up to date. Your desktop version of Office is also automatically kept up to date and upgraded when you connect to the Internet, so you always have the latest tools to help you work.
"The cloud" is a friendly way of describing web-based computing services that are hosted outside of your organization. When you use cloud-based services, your IT infrastructure resides off your property (off-premises), and is maintained by a third party (hosted), instead of residing on a server at your home or business (on-premises) that you maintain. With Office 365, for example, information storage, computation, and software are located and managed remotely on servers owned by Microsoft. Many services you use every day are a part of the cloud—everything from web-based email to mobile banking and online photo storage. Because this infrastructure is located online or "in the cloud," you can access it virtually anywhere, from a PC, tablet, smartphone, or other device with an Internet connection.
Office 365 is highly scalable and can support everything from a one-person business to companies with tens of thousands of users:
Office 365 Business plans are best for companies with one to 300 users.
Office 365 Enterprise plans fit organizations ranging in size from a single employee to 50,000-plus users.
WheelHouse Solutions provides Hosted Email & Office 365 throughout the St. Louis metro area. We invite you to use the form, on the right side of this page, to request additional information about Hosted Email & Office 365. We'll work with you to develop a solution that will meet your needs now, as well as provide for future growth and flexibility.