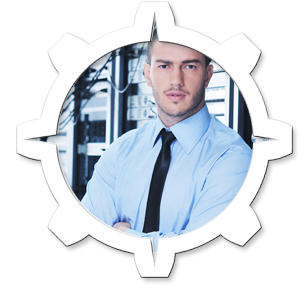 WheelHouse Solutions' ShareSync service delivers an easy-to-use, business-grade file sync and share to businesses, via the cloud. ShareSync can help improve productivity for mobile employees and remote users, boosting collaboration, while offering full control and protection of company data.
Features
Sync Files Across All Devices
Sync files across desktops, mobile devices, and the web
Support for Windows and Mac with familiar drag-and-drop functionality
Mobile apps for iPhone, iPad, Android, Windows phone, and BlackBerry
Files and folders are available from a web browser
Share Folders and Files
Share folders with co-works or external users via the web with one click
Control access with "Co-Owner", "Modify", and "View" permissions
Set different permissions for sub-folders
Files can be viewed even if the recipient doesn't use ShareSync
Shared links are secure, but can be further protected with a password
Business-Grade Security Features
Data is encrypted at-rest and in-transit
Each account's data is encrypted with a unique security key
Only authorized users can access ShareSync
Strong-password policies are enforced
Mobile devices can be further secured with a ShareSync passcode
ShareSync data can be remotely wiped from virtually any device – including desktops and laptops
Audit Log tracks all ShareSync events on an account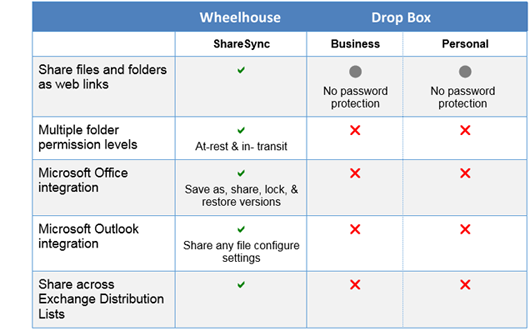 Integrates with Outlook and Office
Save files to ShareSync directly from the ribbon on Word, Excel, and PowerPoint
Lock shared files to prevent conflicts
Restore previous versions
Send attachments as ShareSync links to reduce email storage
Set up for on-demand or automatic link replacement
HIPAA Compliant
256-bit encryption for at-rest and in-transit data.
Unique encryption key for each account (much better than sharing keys between customers)
99.99% Uptime SLA.
SSAE 16 SOC2 Type II Reports.
Reporting and audit trail of account activities on both users and content.
Administrators can remotely wipe data from any registered device.
Security systems that guard against unauthorized access to ePHI during electronic transmission, whether in email and attachments or during the file-sharing process.
Both electronic and physical security to protect ePHI wherever it is stored. Technology and policies to secure ePHI from improper alteration or destruction.
WheelHouse Solutions provides Secure File Sync & Share Services throughout the St. Louis metro area. We invite you to use the form, on the right side of this page, to request additional information about our Secure File Sync & Share Services. We'll work with you to develop a solution that will meet your needs now, as well as provide for future growth and flexibility.